This is the most complete list of hashtag analytics tools on the web in 2020.
Here's the deal:
Many people miss the opportunity to spread their content because they don't use the right hashtags and/or post at optimal times.
These huge mistakes waste your time and money as well as your marketing unnecessarily.
Here are 40 hashtag tools that I personally reviewed, and these can undoubtedly help you to choose the correct hashtags and times to increase your reach.
Let's dive in!
The Complete
Hashtag Analytics Tools List
Increase your success thanks to hashtag marketing.
Hashtagify is an amazing tool that you can use to speed up your business growth, brand awareness, and marketing performance by making smart use of hashtag marketing.
This Twitter and Instagram tracking tool enables you to identify the best hashtags to influence your audience. What is more, apart from giving you custom suggestions, it also helps you to have a better knowledge of your influencers and competitors.
Using this fantastic tool, you can examine real-time data and get insights about any of your hashtags on Twitter and Instagram, such as popularity ranking, related hashtags, trends….
Besides, if you want to get a complete analysis of any hashtag or user, you should use Hashtagify. You ́ll definitely find out cool hashtags with this tool.
Also, you can use it to monitor your competitors and bring relevant influencers on board.
The sooner you start using this tool, the sooner you'll be able to strengthen your message. You ́ll be able to do it thanks to custom suggestions based on your own profile.
By using Hashtagify, you will get all the information you need in just one place. You can download dashboards, charts based on your hashtags and use them to improve your performance.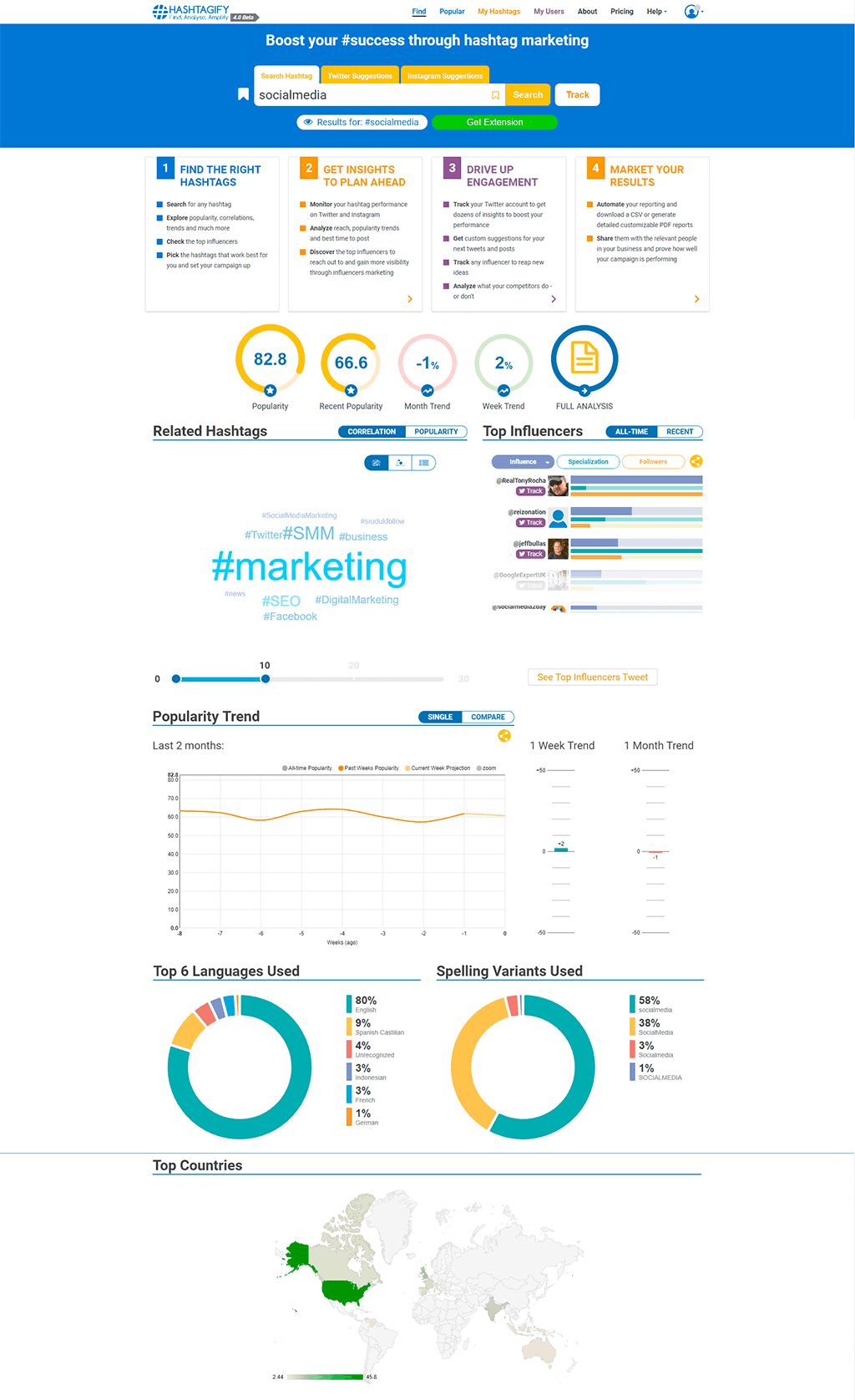 Get the right hashtags through customs suggestions
Obtain insights to plan in advance
Increase engagement
Find out the most popular hashtags by language
Discover the top influencers to approach
Free trial
$19 ~ per month
2. TweetReach by Union Metrics
Get quick comprehensive analytics on social posts and profiles.
TweetReach is a powerful hashtag tool designed for any social media marketers. What is more, if you do a lot of hashtag research, it can save you a lot of time and energy.
Interestingly, what this awesome tool does is to give you insightful real-time reports about your hashtags, as well as provide you information about the posts and profiles that use your hashtags.
Besides, their free snapshot report with charts will help you to check the performance and engagement around your hashtags, such as hashtag popularity and influencers.
So, thanks to this tool you can improve your social marketing strategy by targeting the people that really talk about your hashtag.
Even though their free snapshot report may not cover all your needs to understand your hashtag reach, there is no doubt that TweetReach Pro is one of the best overall hashtag analytics tools on the market.
Were you to use TweetReach Pro, you would be able to see how to track hashtags across social media accounts on Twitter, Facebook, and Instagram; and also you would be able to export multiple in-depth reports.
Thus, this tool is fantastic to check when to post and you could use this data to maximize the reach of your hashtags.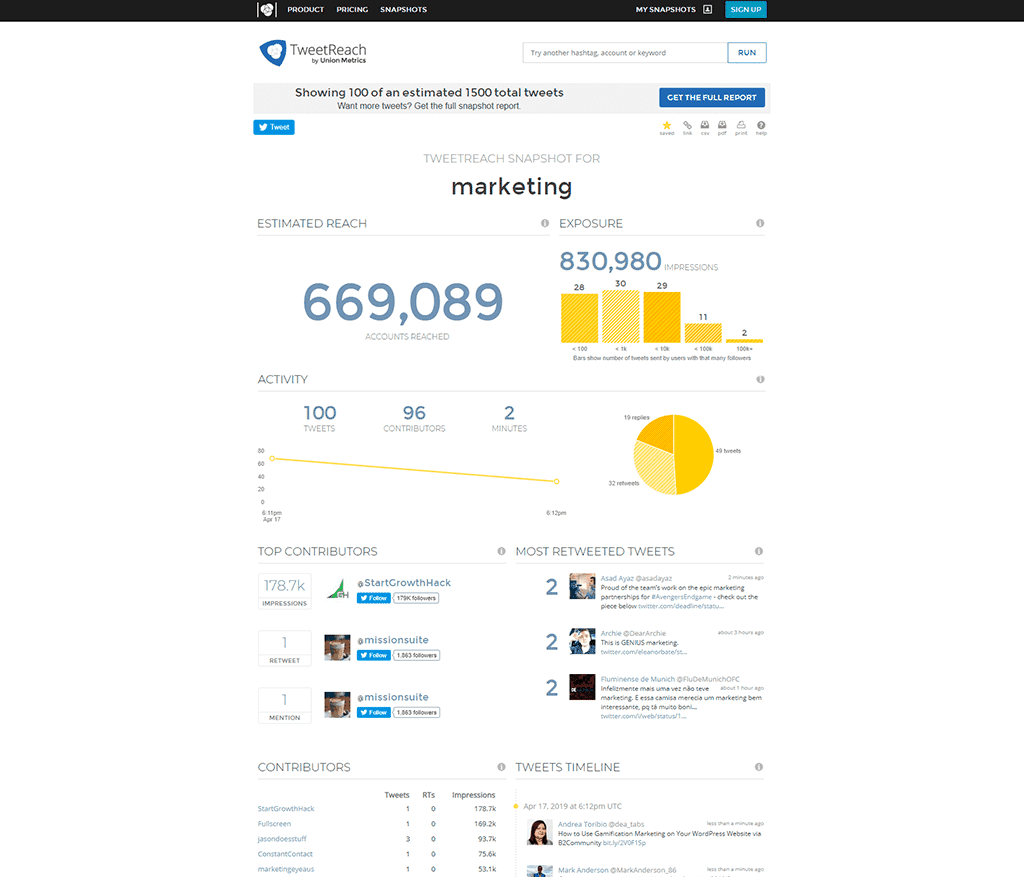 Analyze your Twitter/Facebook/Instagram business profiles
Analyze competitive Twitter profiles
Benchmark with Facebook competitors
Monitor Twitter topics
Detailed content analysis
Fans and followers analysis
Sentiment analysis
Hashtag and URL analysis
Summary data exports
Find, form and expand real connections that matter to your brand.
Whatever it is the size of your organization or the scale of your social efforts, with this outstanding tool, you will be able to deliver and measure valuable content, foster advocacy, nurture relationships, mine social data and activate social listening.
They will definitely provide you with the backing and partnership you need to please your customers, reach your objectives and transform your business.
They not only give onboarding assistance and strategic advice but also enable you to visualize your progress effortlessly so you will easily get to the next level.
They offer you different plans with different features based on your business needs.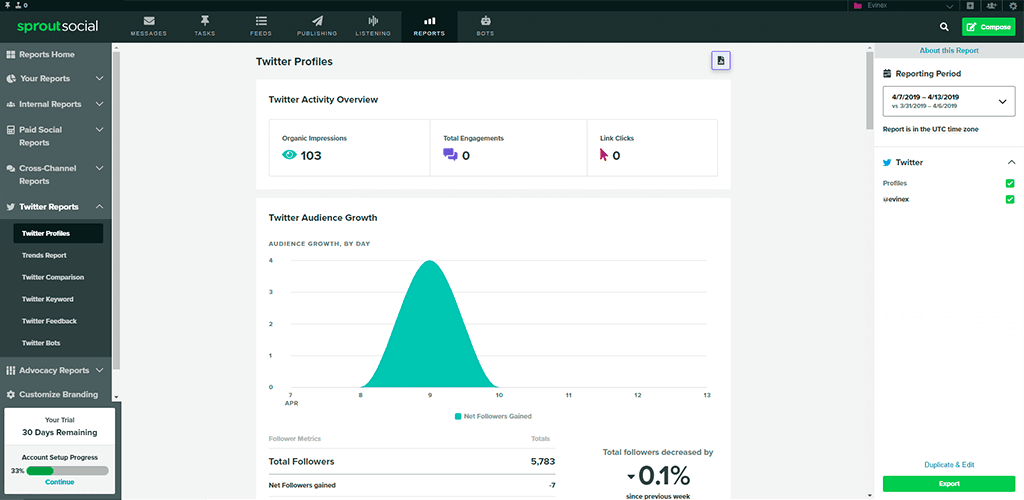 Publish, schedule, draft and queue posts
Managing social content calendar
Profiles, keywords, and locations monitoring
Handling social CRM
Group, profile and post-level reporting
Integration with paid promotion tools and the reports
Competitive reports for Instagram, Facebook, and Twitter
Incoming and outgoing message content tagging
Scheduling for optimal send times
Response rate and time analysis reports
Trend analysis for Twitter keywords and hashtags
Alert settings for high volume messages
Chatbots and replies (Saved and suggested)
Tracking Custom URL
Conducting Twitter Surveys
Free trial
$ 149 ~ per user/month
Detailed online monitoring of Twitter, Instagram, news, blogs & forums.
This fascinating tool will help you to easily understand how your audience engages with your brand, campaigns, and influencers across social media and the web.
Keyhole will save your team lots of time due to the fact that it aggregates metrics, monitors and analyzes your campaigns, and builds reports for you. It also uses AI to anticipate how your campaign is expected to perform so you can take action.
They offer you event monitoring which means that they will capture every meaningful moment of your event and access real-time engagement data to increase your event reach as it runs.
With this tool, you can easily measure the impact influencers are making on your brand online. Therefore, you will be able to easily identify and connect with the most relevant and engaging influencers in your industry.
What is more, Keyhole helps you to detect any conversation about your brand and the sentiment around it by using AI algorithm.
It uses social listening to gain insights into key conversations happening around any topic online.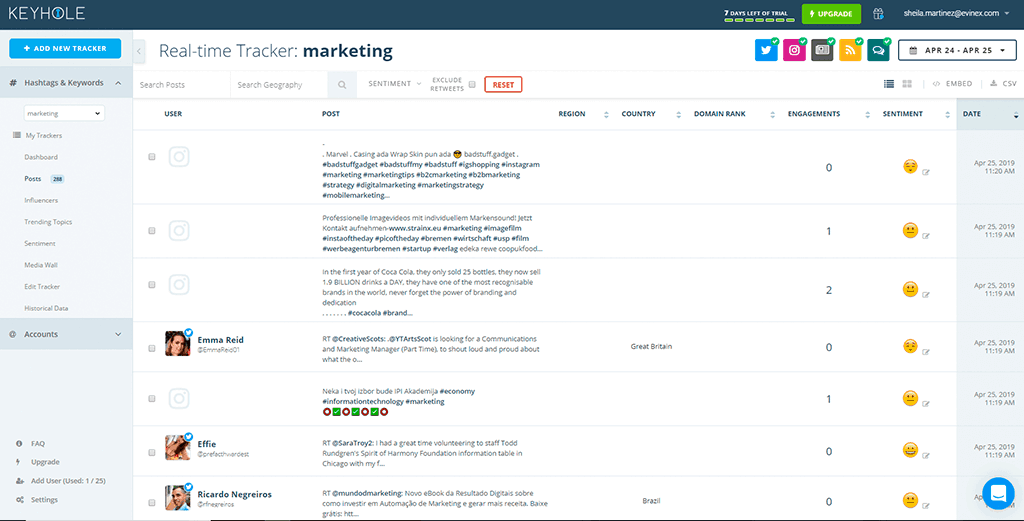 Analyze and track hashtags and keywords
Analyze and compare social media accounts
Analyze old posts
Campaign, event, and brand monitoring
Influencer marketing
Market research
Free trial
$ 89 ~ per month
Obtain prompt access to online mentions and increase customer satisfaction and sales.
With Brand24 you can easily find out what people are saying online about your brand. Thus, you will get information ranging from social networks to influential publishers.
This astonishing tool helps you to reach and engage quickly to real-time comments about your brand, so you will be able to either follow up on positive comments and/or give a fast response to any dissatisfied customer before it goes any further.
Due to the fact that most customers do research or ask online before making a buying decision, Brand24 gives you the tools to identify them. Therefore, you will be able to know where to promote your products and find customers before they find you.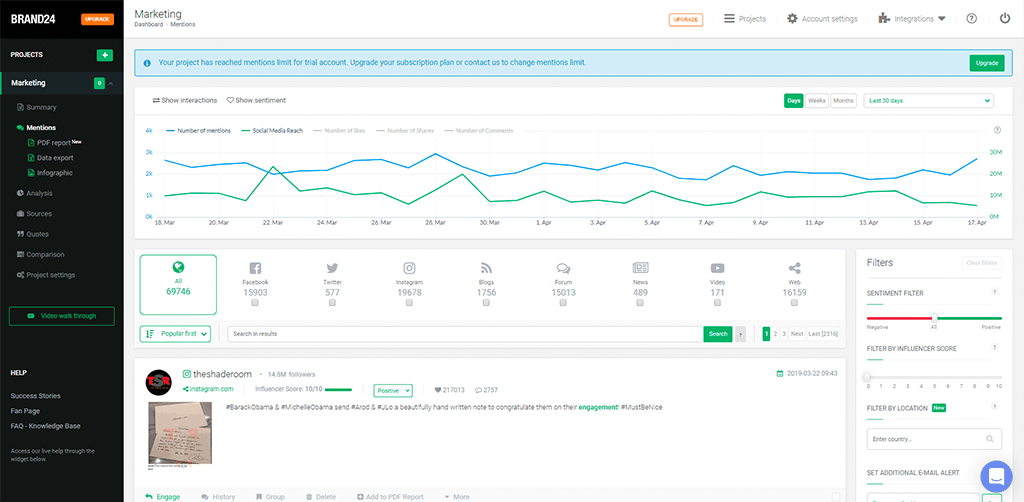 Data exporting
Mention analytics
Influence score
Sentiment analysis
Alerts
Filtering
Discussion volume chart
Free trial
$ 99 ~ per month
Social media operation platform for businesses and teams.
Thanks to Buffer you can combine 25+ social accounts, program 2,000 posts per account, invite team members, have access to social analytics and more.
Their business plans are excellent for teams who are looking to schedule content for their business or client social accounts.
This amazing tool allows you to monitor the engagement and interactions of all the posts you have shared. Therefore, you can check how your content is performing in all your accounts.
If you use Buffer, your team members will have the possibility to create and share drafts.
Besides, all their posts will be still shared within your present schedule, hence preventing any kind of over-sharing or disruption to your publishing flow.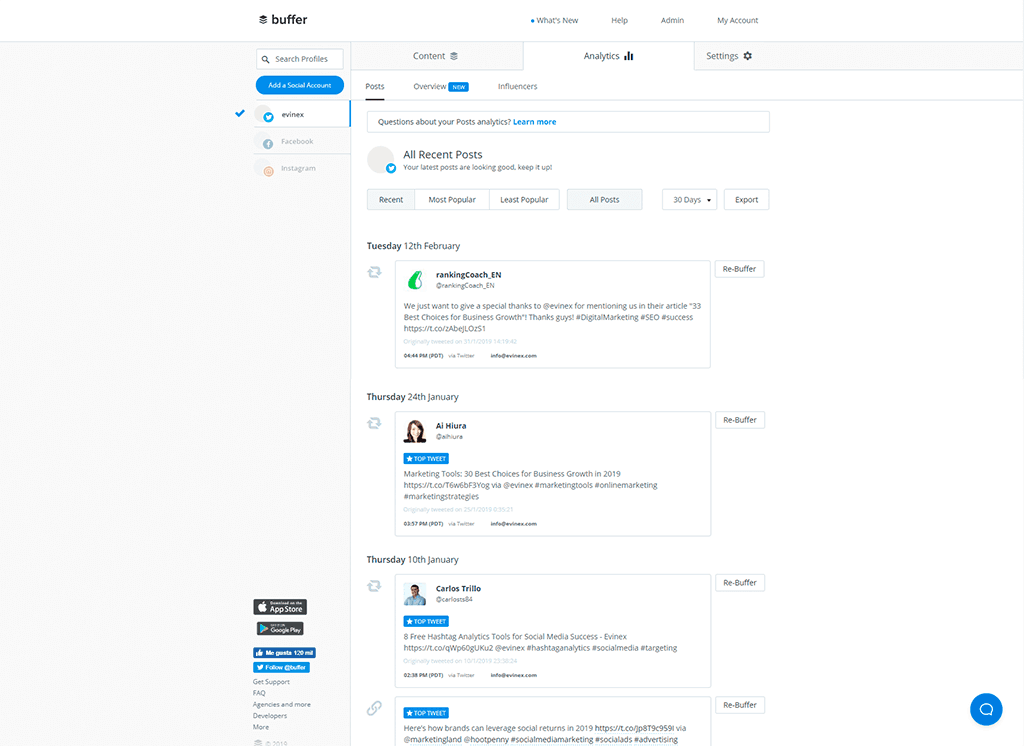 Get all your social accounts connected just in one place
Schedule your posts per account
Invite team members
Access advanced analytics
Create collections of social accounts for easier publishing
See how your content is performing among all your social accounts
Save posts to your drafts list for future editing before publishing
Varied scheduling options
Instagram direct scheduling
Personalized posts composer
Visualize and plan your social media content
Re-share posts that have already been published
Free trial
$ 99 ~ per month
Hashtag suggestions for images and texts on both desktop and mobile formats.
RiteTag not only provides you hashtag suggestions for a word or a short text, but you can also get hashtag suggestions for an image on any site and on mobile.
If what you want is to compare your hashtags, you can easily group them and get a comparison in RiteTag.
Besides, this tool allows you to get hashtag suggestions right where you manage your social profiles.
They provide you different Ritekits:
RiteForge, helps you to craft, schedule and publish outstanding posts
While with RiteBoost, you will be able to enhance your posts
Rite.ly allows you to add self-branded calls-to-action on links and track clicks and conversions.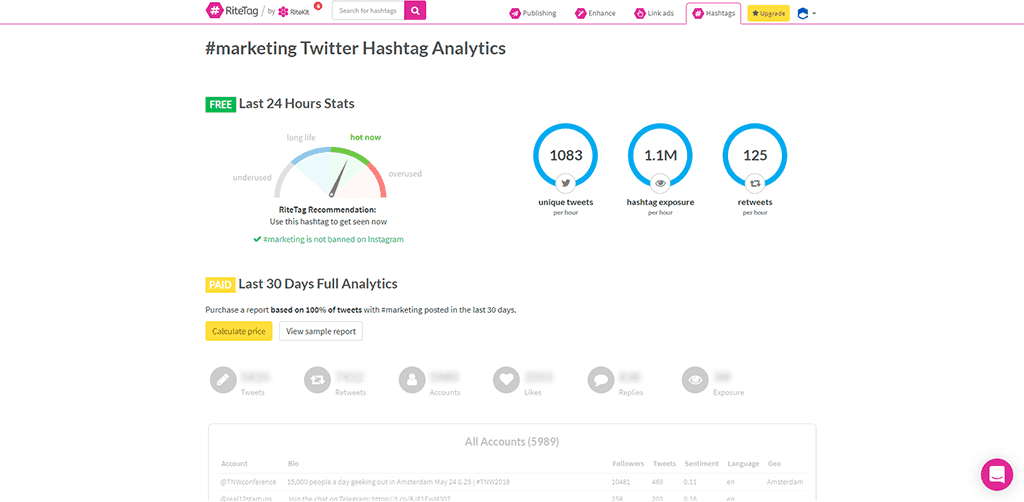 Hashtag suggestions for texts      
Hashtag suggestions for images
Tag sets
Integrations
Simplify your Social Media Management.
This social media management tool will provide you with the listening, collaboration and reporting features you need so as to keep your clients delighted.
Were you to have a large team, they would give you the monitoring you need, plus flexible content scheduling options and collaboration workflow features.
While if your business is small, and what you need is a simple social media management tool, they will offer you endless reports so as to track your efforts.
AgoraPulse makes it easier for you to post to all your social accounts so that you can expand your content.
You can queue or schedule your content and publish it on the right moment for you. Besides, you can reschedule and re-queue your posts over and over again.
It also allows you to customize your content for each social network and monitor all those social conversations that have significant relevance for you.
This tool definitely helps you to build meaningful relationships with your audience.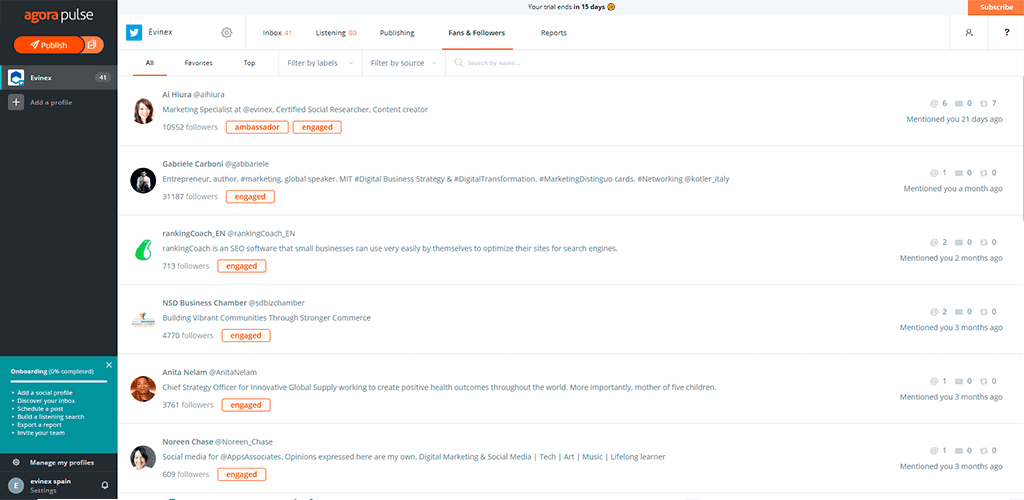 Publishing
Social inbox
Social monitoring
Reports
Team workflow
Social CRM
Effortlessly generate the best hashtags for Instagram, Facebook, Twitter and Google +.
All Hashtag is an outstanding tool that will make it easier for you to create and analyze top relevant hashtags for your social media content and marketing. Consequently, it generates loads of relevant hashtags that you can simply copy and paste into your social media posts.
So, thanks to their hashtag tools, you will be able to save a lot of time and effort while you get the best results out of your posts.
As soon as you start using this tool, you will get more followers, likes, success, and support.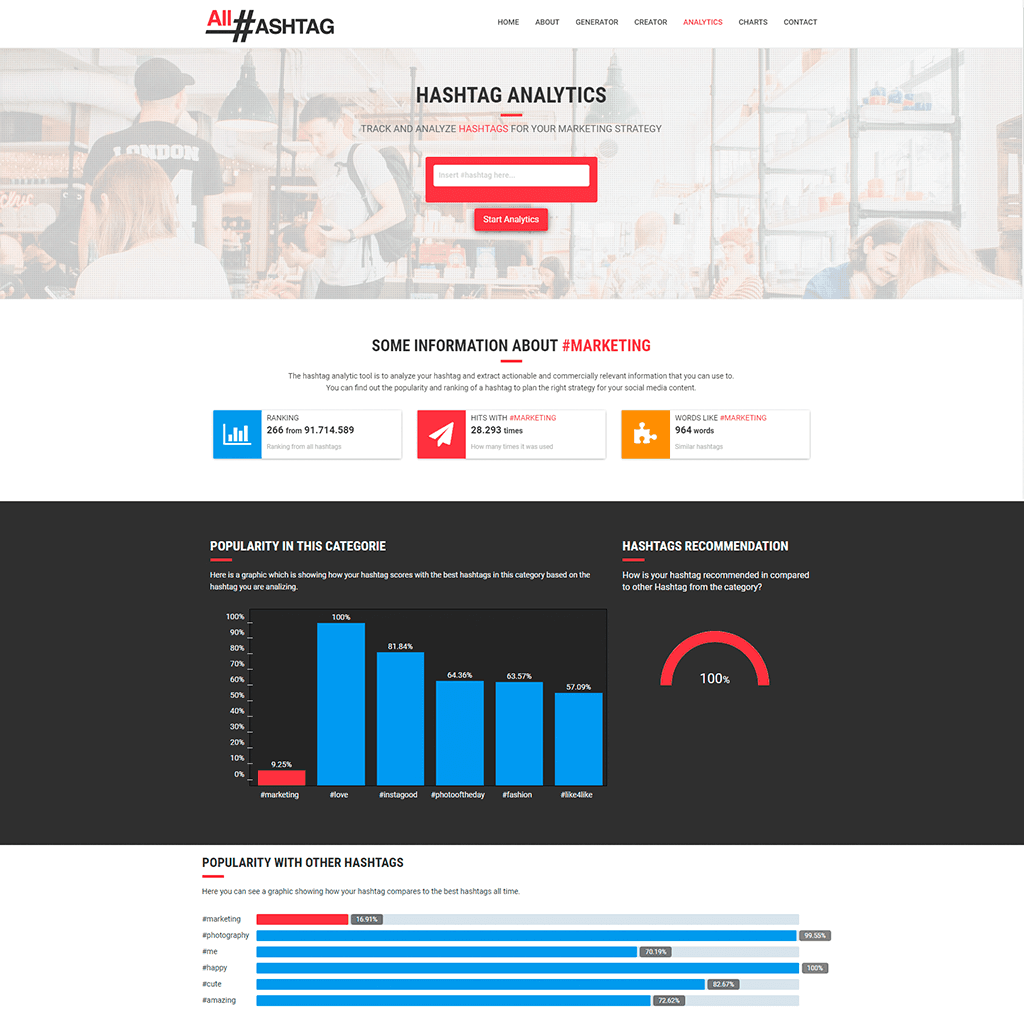 Hashtag Generator
Hashtag Creator
Hashtag Analytics
Top hashtags
Optimize the Impact of Your Work.
Talkwalker is an amazing tool that monitors what is going on in all social channels and online media in real-time, on all markets and in 187 languages.
Thus, it allows you to discover what customers think about your campaigns, products, events, earning calls and brands. Therefore, you can track your brand perception and message impact all around the world.
With Talkwalker, you will not only be able to measure your brand and campaigns with proven KPI frameworks but also to measure sentiment and brand health.
What is more, they allow you to put your social efforts together with real business results, so you can present them to management in annotated reports. This will undoubtedly help you to contrast and compare your results channel by channel to the competition.
Thanks to this tool, you will be able to widen the social performance of your communication campaigns due to data-driven technology.
With Talkwalker, you will manage to find the best stories and true influencers to boost your brand power.
Social Listening
Social Media Analytics
Social Media Reporting
Turn social data insights into action
All in one platform
Native Instagram Analytics tool that tracks engagement, reach and impressions
Instagram Insights is a free tool you have access to if you have a business account on Instagram. It will significantly help you to gather information as regards the reach, impressions and engagement of your posts, stories and ads.
This data will be of great importance to check how your campaigns are doing. And also to analyze how each of your single posts and stories perform on Instagram.
Instagram outlines information about the content you ́ve posted in the last seven days. For instance, you can compare the number of followers you had with the ones you have obtained during the last seven days.
On top of that, you will be able to check the total number of profile views, reach and impressions in the last seven days. Or, you can even monitor your website views and CTAs from Instagram.
As regards Instagram stories, you will also be able to track data. Yet, Instagram allows you to check stories insights over the last 24 hours, seven days and fourteen days.
As on Instagram you can make use of paid promotions, Instagram insights will also give you information about your active promotions. For example about the engagement, impressions, money spent, visits to your profile, etc.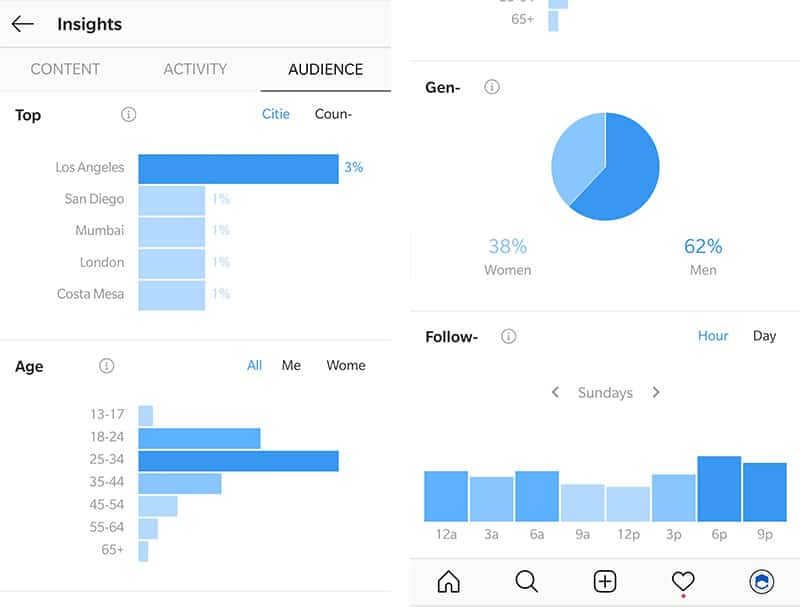 Analyze your individual posts performance
Evaluate your stories performance
Examine your followers demographics (gender, location, age)
Show you your followers most active time
Measure engagement, reach and impressions
Check your followers growth
Find out how many profile visits you had
Provide data as regards your paid promotions
Discover the best hashtag suggestions for Twitter & Instagram
HashtagsForLikes is a fantastic tool that empowers you with the most trendy hashtag suggestions for your Instagram and Twitter posts. Thus, it will not only help you to get better reach results, but you will also gain more followers.
It's fairly easy to use, you just have to type in any hashtag in the search bar. Then, it will give you live information about analytics and insights of the hashtag you typed. And finally, it's you who has to use this data to improve the performance of your hashtags on Twitter and Instagram.
Besides, they also give you the chance to get popular hashtags. Yet, this data is only for premium accounts. Though, it might be useful for businesses. It's up to you whether you want to use this service or not.
But, there ́s no doubt it will undoubtedly help you to reach a wider audience and get more followers.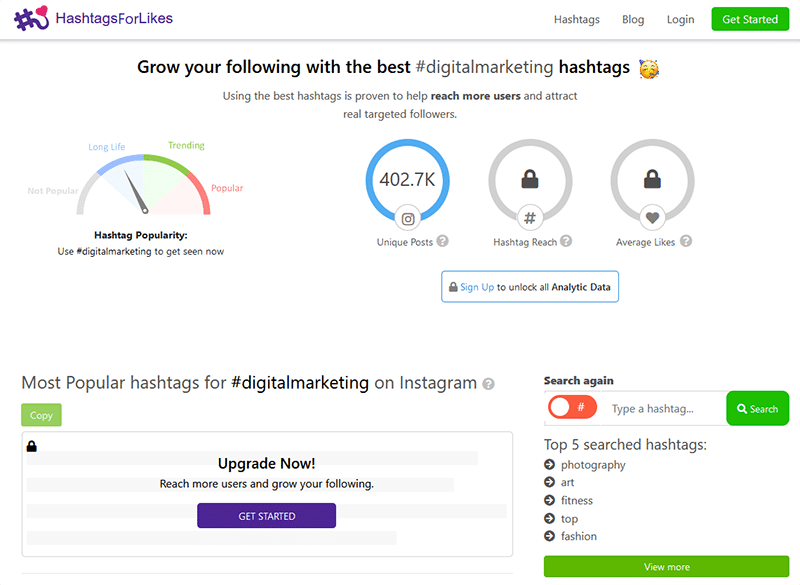 Instagram hashtag generator
Twitter hashtag generator
Get live analytics and insights from the dashbar
Obtain trendy hashtag suggestions
Increase your reach
Boost the number of your followers
Performance reports
Free
Premium: $ 14.99  ~ per month
Hashtag analytics tool for your brand, business, product, service, event or blog.
This amazing tool helps you to listen, measure and engage in Twitter conversations. Therefore, you will get worthwhile social media insights.
Besides, Hashtags.org not only allows you to check if a hashtag has already been used before you publish it but also gives you the information you need in order to take advantage of your hashtag marketing.
Their website provides you with outstanding resources such as hashtag Analytics, Articles, Dictionary and Support that you might want to use if you need more information about how to use hashtags.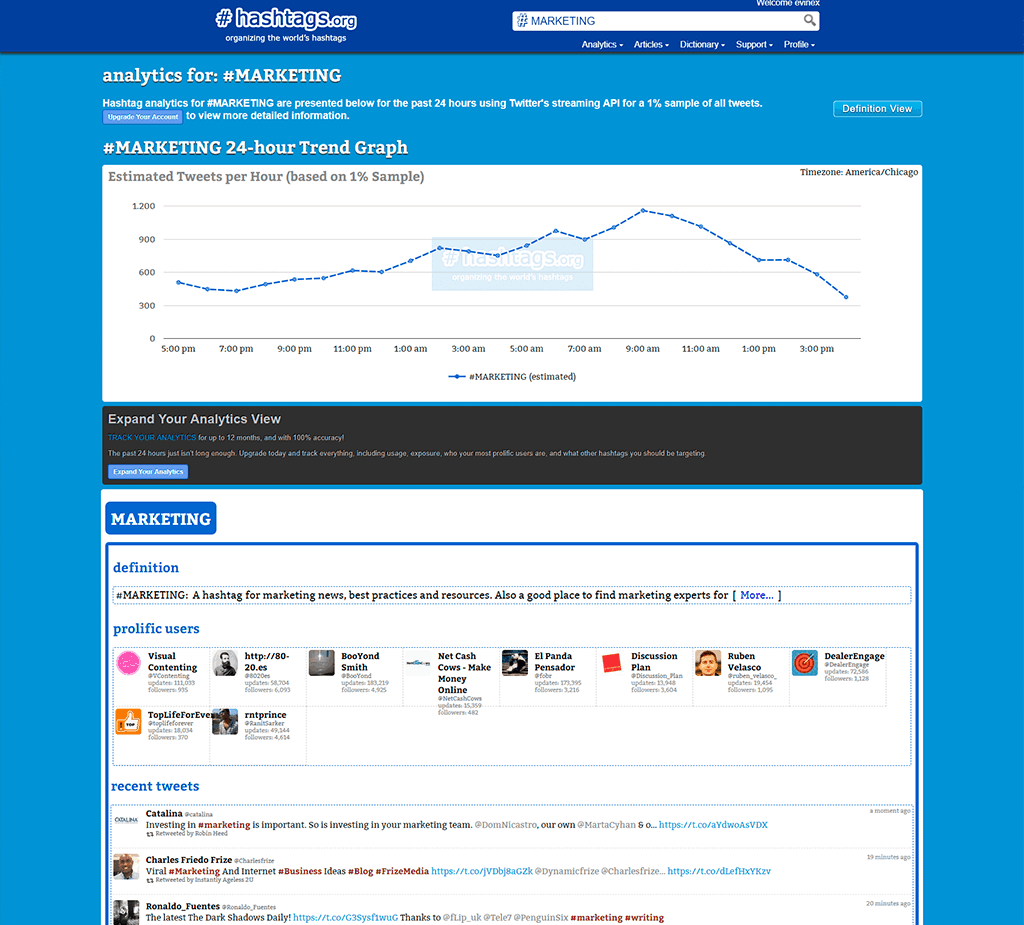 Track hashtags
Compare hashtags
Export data CSV, XML, JSON
Saved views
Get monthly data storage
Get support
Audience Focused Social Media Tool.
Socialbakers will undoubtedly help you to identify your audience so as to create appropriate content and get influencers that matter to them.
They provide you with an AI-powered audience analysis platform, so you can target the right people, with the right message, and at the right time.
On top of that, this tool will unquestionably help you to work faster due to the fact that you can manage all your social media accounts in just one platform.
With Socialbakers, you can monitor conversations about your brand which will help you to establish better relationships with your customers.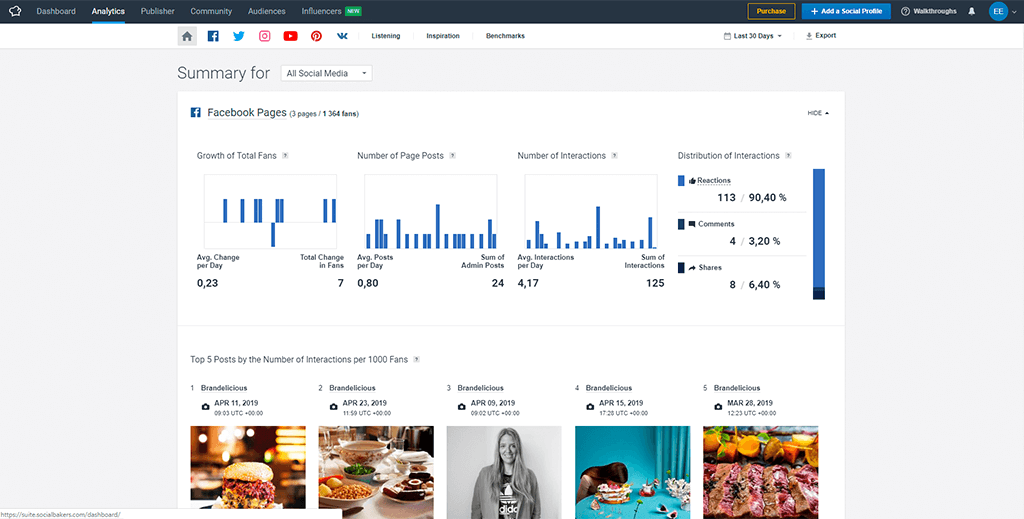 Audiences and influencers understanding
Content intelligence
Social media management
Social media monitoring
Community management
Free trial
$200 ~ per month
15. Twitter Advanced Search
Discover exactly what you are looking for.
Once you log into Twitter, this tool will allow you to adapt your search results to precise date ranges, people and more. In other words, it makes it easier for you to find specific Tweets.
If you use Twitter Advanced Search, you will be able to improve your search results by using a combination of fields such as words, people, places, and dates.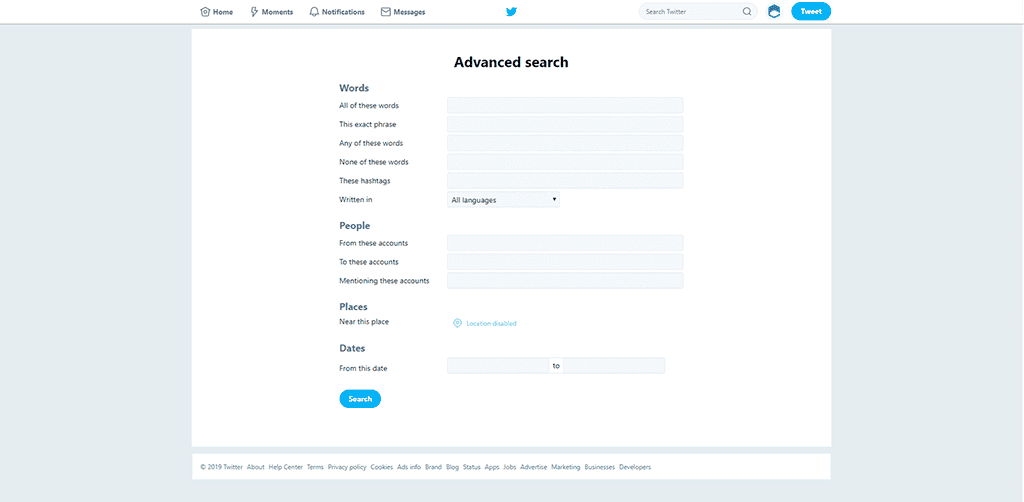 Boost search results by words
Boost search results by people
Boost search results by places
Boost search results by dates
Analyze, organize and display your Twitter and Instagram content.
Tweet Blinder is a hashtag tracking tool for agencies and marketers. They offer you different types of reports such as Twitter Historical, Twitter 30-day, Twitter Real-Time, and Instagram hashtag.
Tracking hashtags with this tool makes it easier for you to get information about the impact of your campaign.
On top of that, their custom projects will allow you to present and display your campaigns data within a website, so your clients will have the chance to engage with you even more.
There are a thousand opportunities when it comes to display and analyze Instagram and Twitter data.
But, what they offer you is a hashtag tracking tool without limits, real-time hashtag monitoring, Twitter historical data without limits too, an Instagram hashtag analysis, Social Media Walls and custom projects to display information.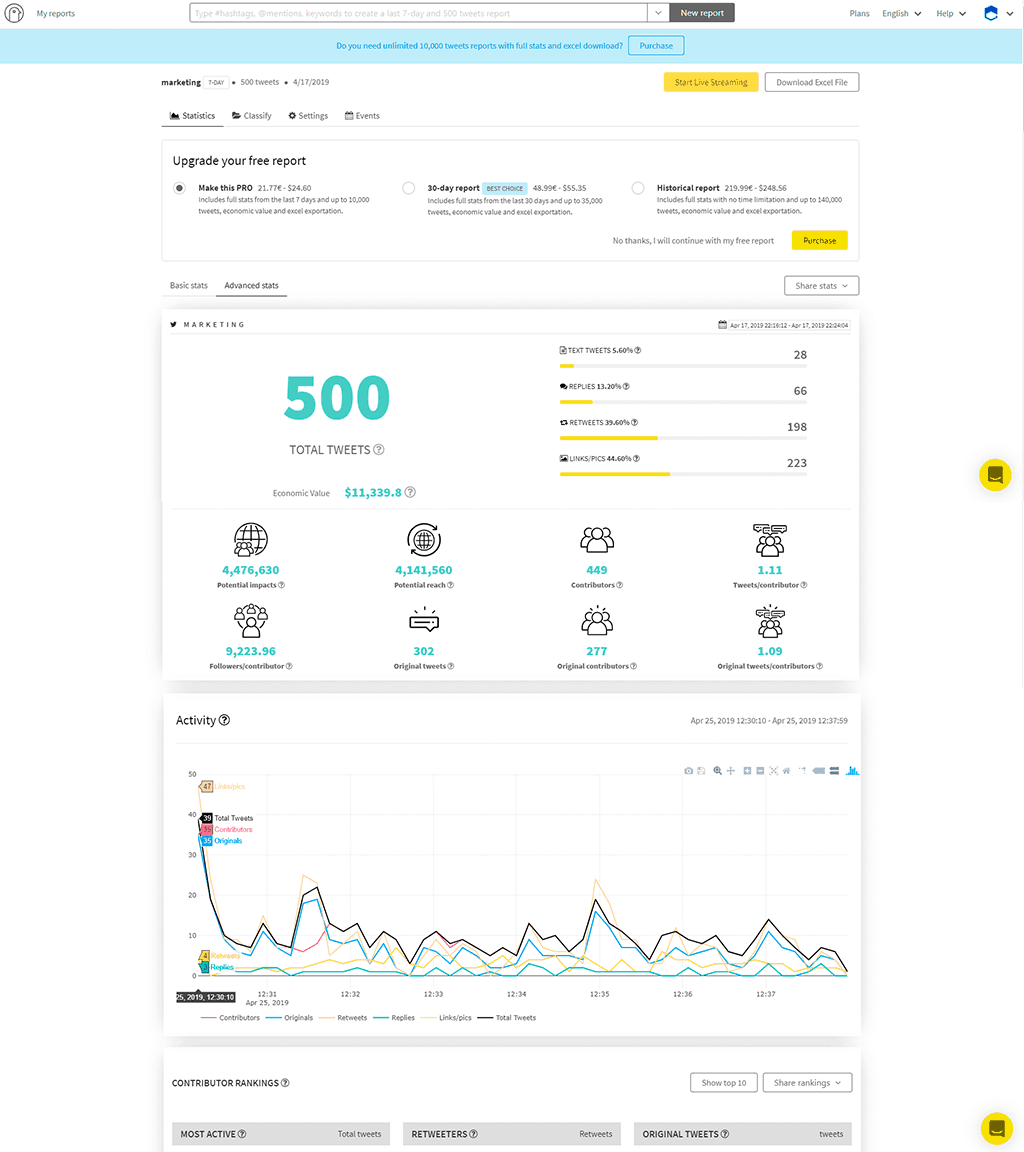 Twitter historical report         
Twitter 30-day report
Twitter real-time report
Instagram hashtag report
Advanced stats
Excel exportation
Curate and display social media content.
Taggbox makes it easier for you to deal with social media content so as to build trust and improve your marketing performance.
It allows you to add many social platforms to bring in content and discover your earned media. You can also filter unwanted content thanks to their moderation panel.
Besides, you can personalize and design your web choosing colors, fonts, background and adding logos and messages. And you can display the social wall on a screen or embed it on your website.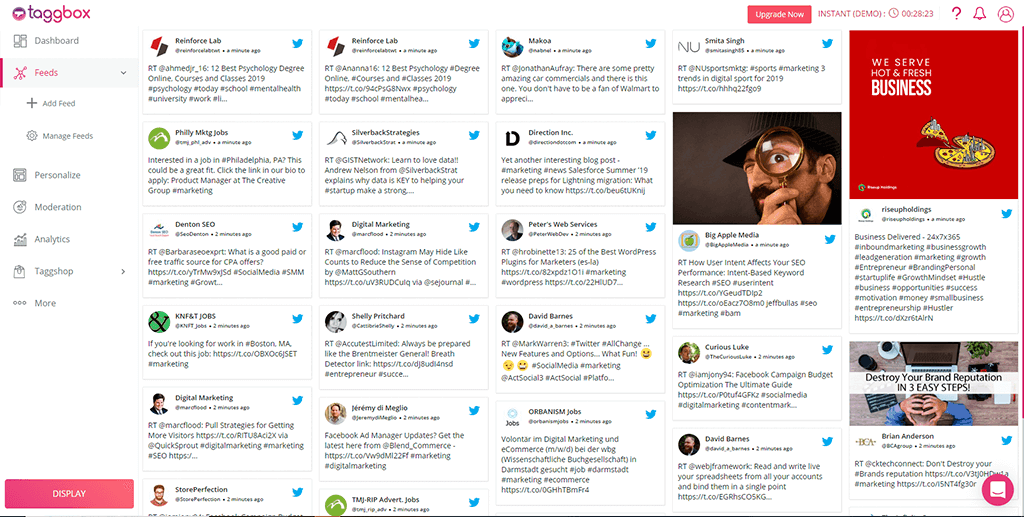 Gallery of themes
Customized design
Filter and moderate
Shoppable posts
Highlight offers
Auto updates
Fits any screen
Analytics
Free trial
$49 ~ per month
A powerful social media search engine for free.
Social Searcher provides you with their wonderful search engine that you might use to monitor each and every social mention about your brand in social networks and the web.
With this tool, you will be able to measure and track what people are saying about your company, brand, product or service in a matter of seconds. Thus, saving you loads of time and effortlessly.
What is more, thanks to their social analytics, you will be granted with the opportunity of getting various charts and reports evaluating the performance of your contents among several platforms.
If what you want is to know your audience better, they will provide you information about their preferred post types, weekdays and times for publishing.
Not to mention the fact that this tool ́s sentiment analysis will help you to deal with not only positive feedback but most importantly with the negative one. Therefore, giving you the chance to react promptly.
Were you interested in tracking influencers activity, you would be given essential information about their tactics in the long run.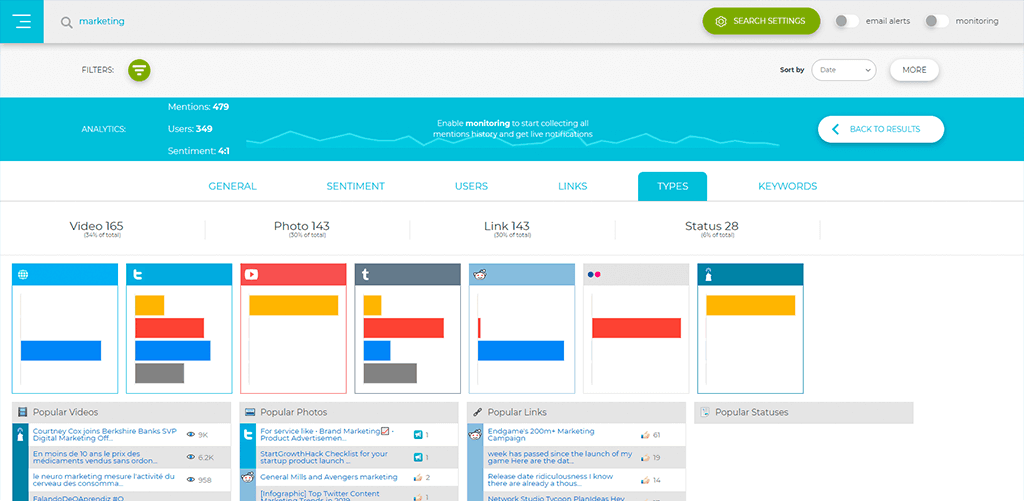 Actionable social analytics
Audience insights
Popular hashtags
Sentiment analysis
Social influencers
Explore social mentions
Data export and social media monitoring API
Email alerts
Fantastic tool for exploring photographic hashtags.
Simple as it may seem, what Display Purposes does is to suggest a list of the best hashtags to use based on any hashtag you give to its tag search, as well as ban spammy ones.
Needless to say that this is of the utmost importance when what you need is to get your content seen by an audience.
This website also provides you information about the relevance and popularity of each hashtag with a map.
Although the website has no affiliation with the popular image sharing app Instagram, there is no doubt of its usefulness.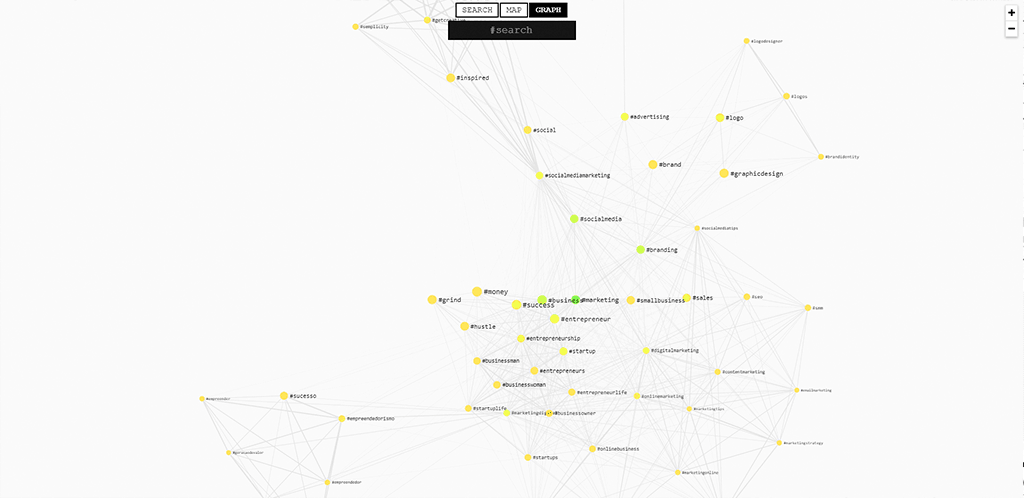 Hashtags research
Hashtags map
Hashtags graph
Analyze Twitter trending topics at a glance.
If you want to know what is going on in real time, Trendsmap is the best tool to show you the latest twitter trending hashtags and topics from anywhere all around the world.
All you have to do is to click on a word, zoom into your area of interest and explore.
In addition, if you want to explore the past, with this tool you can find out any topic, hashtag, user or Tweet being used.
But, if what you want is to be the best informed, you can create email and Slack alerts so as to be the first one to get information about any topic.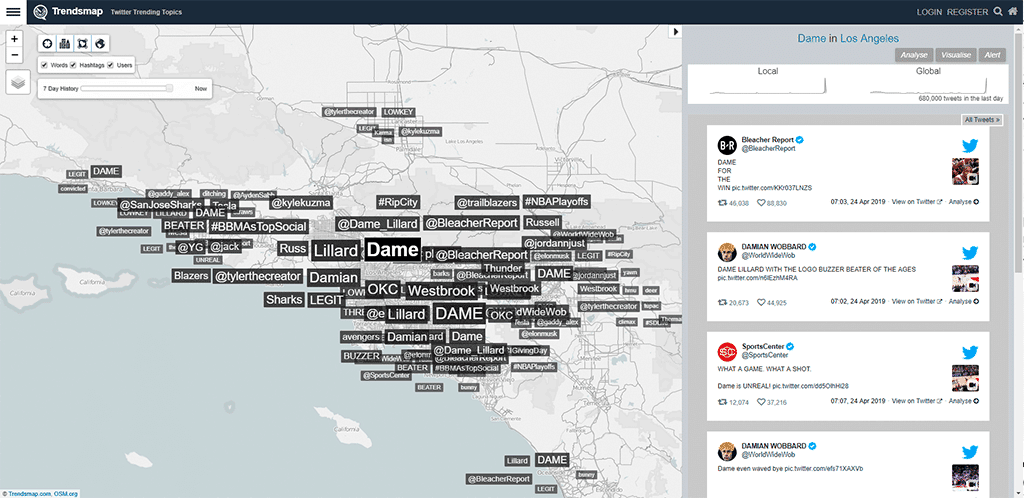 Latest trends
7-day trends history
Global top Tweets
Local trends
Local top tweets, media, and URLs
Filter results by time, country, state, region, and language
Identify influencers
Create personalized alerts
Slack alerts
Analyze, manage and measure your social media activity.
Thanks to Metricool you can measure all your social media accounts and online advertising campaigns in just one place, therefore it makes it easier to achieve your marketing goals.
You can also get information about your competitors ́metrics to understand and compare strategies in each and every social network.
If you want to program your posts, you can use the calendar they provide in order to organize and optimize your content strategy following their advice of the best time to publish based on your audience preferences.
They also give you the chance to create your reports up to your own needs, that is to say, you can add your brand logo, choose what metrics to include, the language and more.
Besides, you can manage your community and get information about how they interact with your website in real-time.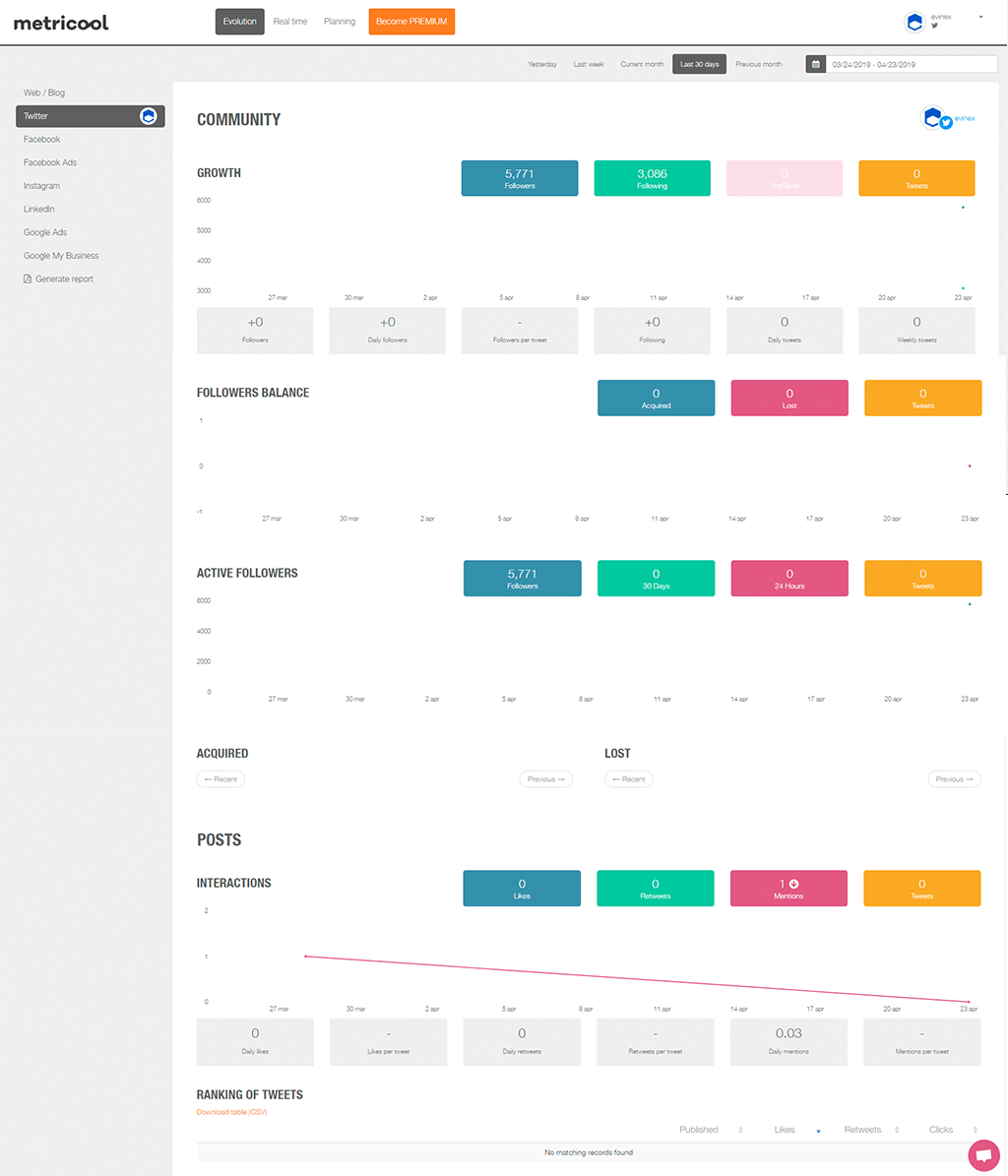 Analyze your content online
Analyze your competitors
Schedule your social media posts
Automatically create custom reports
Manage your community and events in real-time
Twitter search analytics and business intelligence.
Followthehashtag is an amazing Twitter intelligence and analytics tool that supports you with loads of features. Thus, they make it easier for you to search, analyze and measure content.
Besides, they will undoubtedly help you to discover influencers, create useful reports, look for geo-located tweets, filter your searches, analyze your competitors, and more.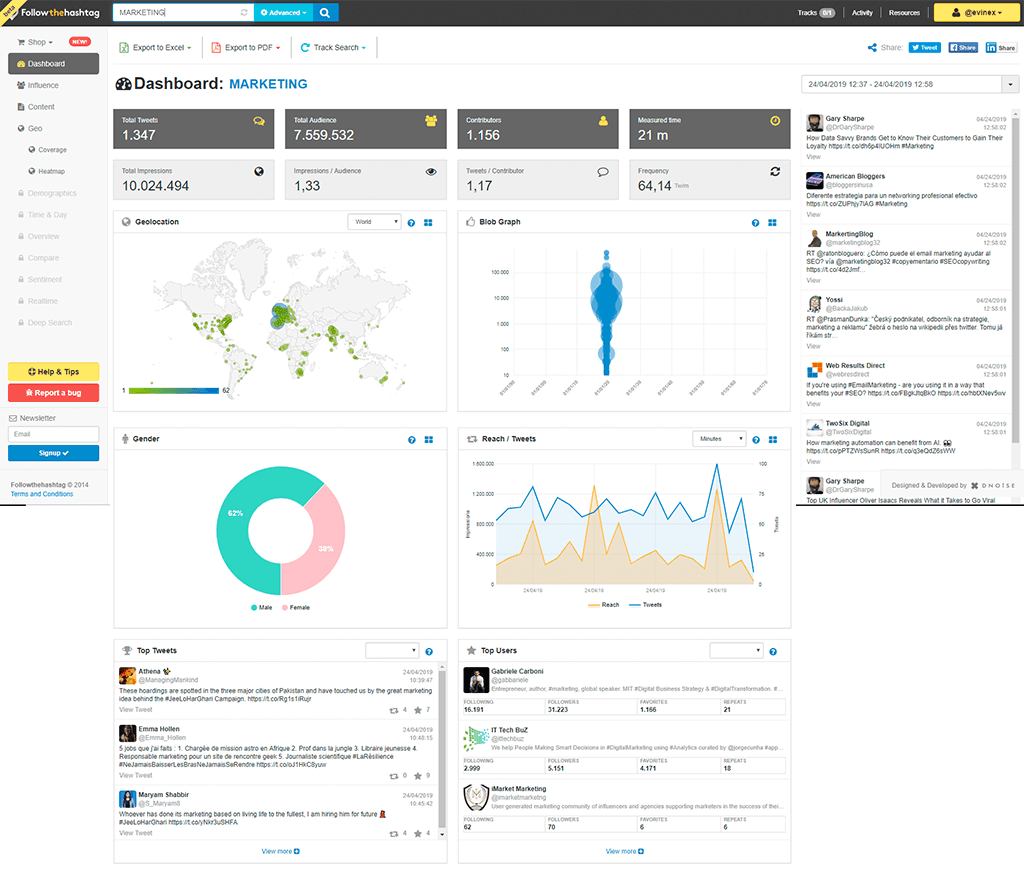 Geodata, heatmap, and language
Keyword tracking
Twitter picture analysis
Twitter users' influence score
Gender analysis
Aggregated key repeats
Top users and Tweets insights
Influence score evolution
Blob chart
Reach/repeats
Stream analysis
Premium features shop
Social media analytics software that empowers your performance and strengthens your strategy.
Their social media analytics make it easier for you to gather information about how your social media efforts are perceived by your audience. They tell you exactly which of your posts get the best response and also provide you with competitors insights.
Moreover, you will be able to customize, schedule and export reports. Therefore, giving you the key metrics to drive more engagement and justify your social media campaigns.
Thanks to their social listening, you will be empowered to give your audience what they want as well as find inspiration for your own social campaigns.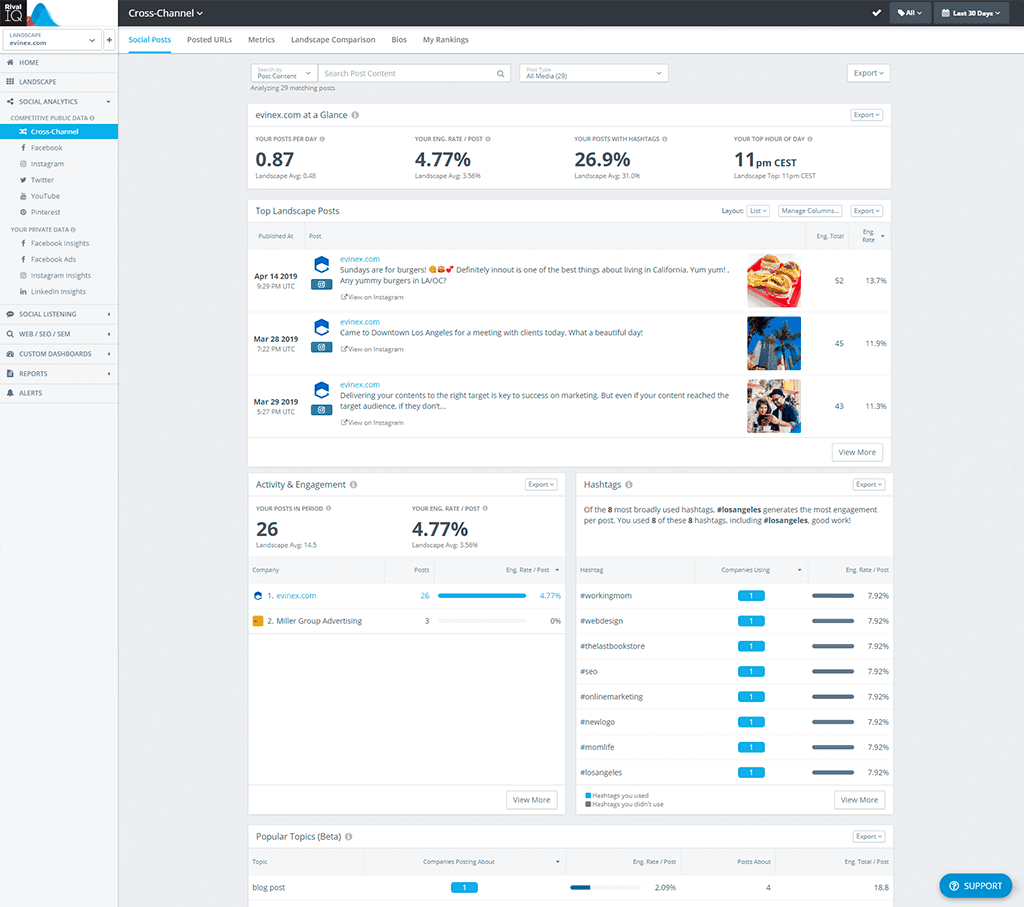 Social media analytics
Competitors analysis
Social listening
Hashtag analytics
Twitter mentions tracking
Metrics analytics
Scheduled reports
Email alerts
Tag filters
Free trial
$ 199 ~ per month
A useful search engine for Instagram hashtags.
Webstagram helps you to look for information on Instagram, you can search to find photos, tags, popular users, and etc. It provides information about likes and also gives you a list of comments.
You might use this tool not only as a search engine but also as a way of gathering information for future practice and inspiration.
Hashtags overview across the world.
#onemilliontweetmap provides you relevant information about Tweets through varied filtering options. This information is not only updated in real time, but it is also powered by Maptimize, a geographical clustering engine for online maps.
Mainly, what it does is help you to filter Tweets in a particular area, giving you information about when these Tweets were posted, who posted them and the content of those Tweets.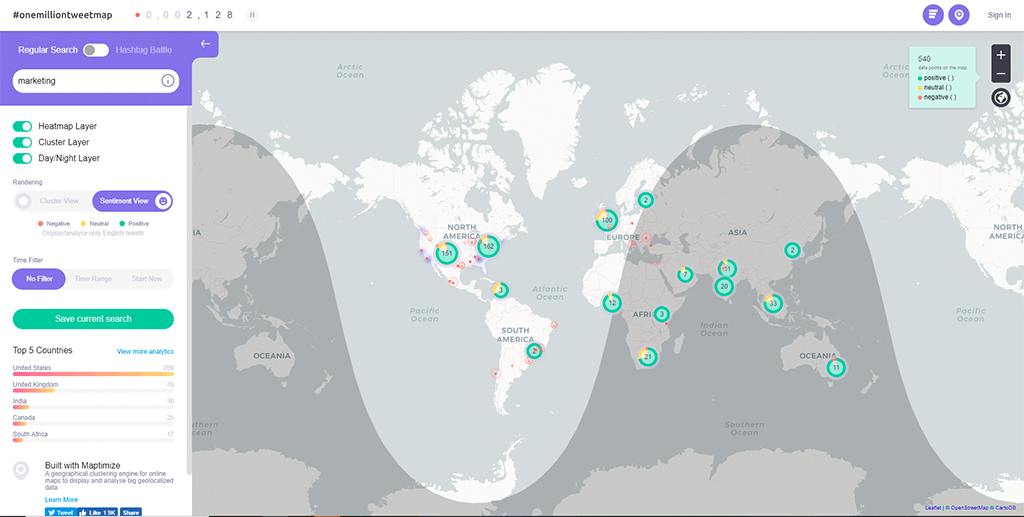 Clusters of Tweets
Heat map
Keyword and hashtag filters
Time filter
Trending filter
Real-time view of Tweets in a specific area
A Twitter hashtag and Twitter account analytics tool.
This tool gives you a profound analysis of your brand, product or webpage by means of telling you information not only about who is talking about you but also about social traffic, demography, influencers, location, and sentiments.
Among their products, you can find: Twitter Account Analytics, Hashtag Analytics, Download Tweets, and Followers Analysis.
Therefore, you can use this tool to get comprehensive insights into your brand, competitors, and individuals.
You can also analyze keywords, hashtags and user mentions on Twitter in real-time.
Not to mention the fact that they allow you to download Tweets from any user or even download a comprehensive report about the followers of any public account on Twitter.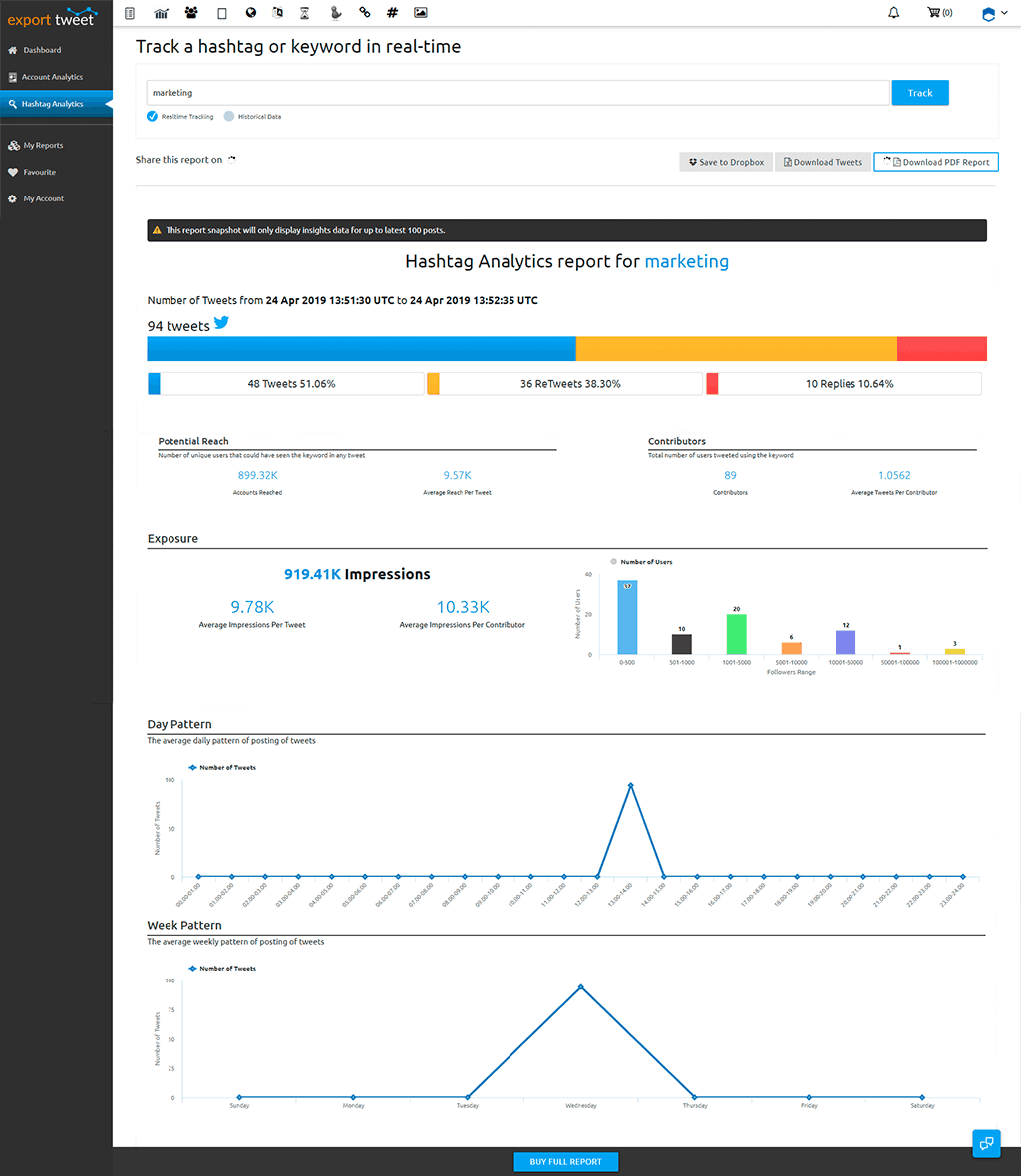 Competitor watch
Demographic analysis
Automated reporting
Language analysis
Real-time Twitter data
Logo branding
Hashtag definition search engine.
Tagdef makes it easier for you to understand what a specific hashtag means. In other words, it provides you definitions of mysterious and/or cryptic hashtags.
What is more, this interface relies on users to supply definitions, so you can provide your own interpretation of a precise hashtag or even vote for the one you think matches best a specific one.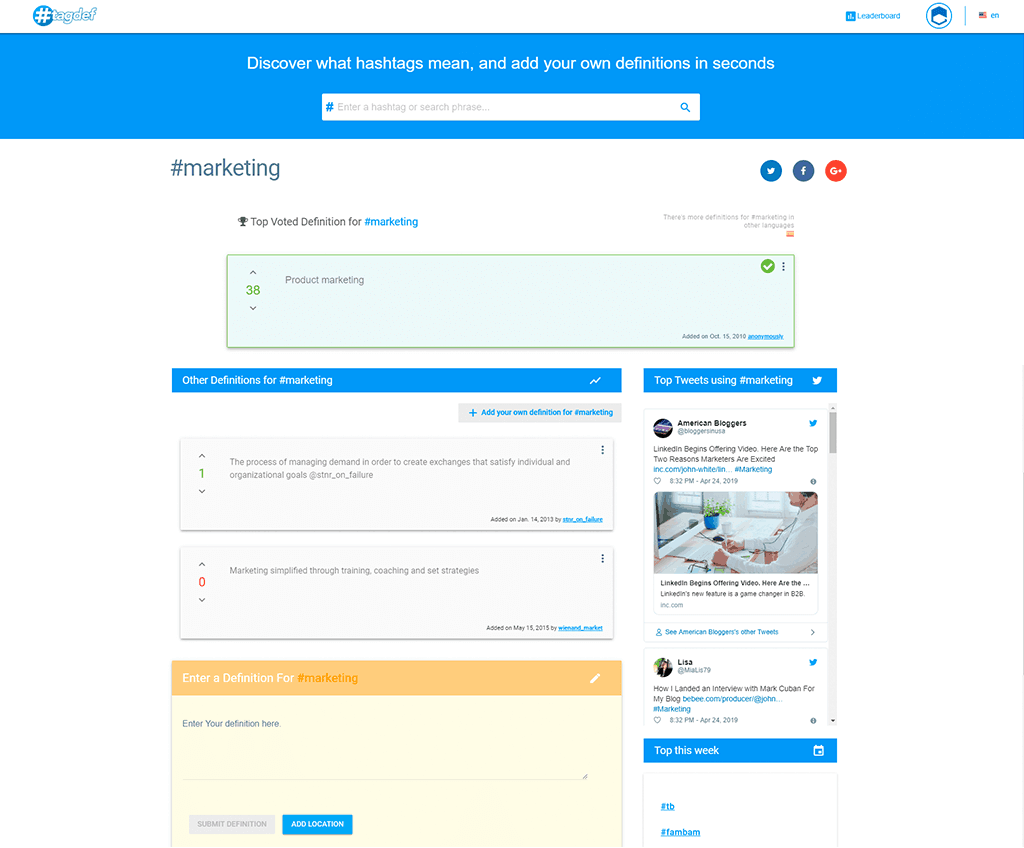 Hashtag definition Search Engine
Creating a real-time Twitter chat room based on Twitter hashtags.
TWChat is a Twitter chat that you can use not only for sharing information about your brand or product but also for engaging with your audience. Thus, it ́s very useful for Twitter marketers.
Interestingly, what this platform does is to monitor hashtags, and it creates a smooth interface quite similar to the one of a chatroom. It allows you to see new messages, send your own ones, and most importantly you will have the control of all what you see.
Were you to use this tool, you would be able to filter responses, see messages that include questions, see Tweets where you are specifically mentioned, follow users, retweet, reply… and so on and so forth.
Get stats on your mentions, retweets, and likes on Twitter.
This Twitter analytics tool not only allows you to analyze your Twitter account but also it offers you analytics about your followers and those you follow.
Twitonomy basically makes it easier for you to gather information as regards followers growth, clicks, retweeted and favorite Tweets, mentions, and so on and so forth.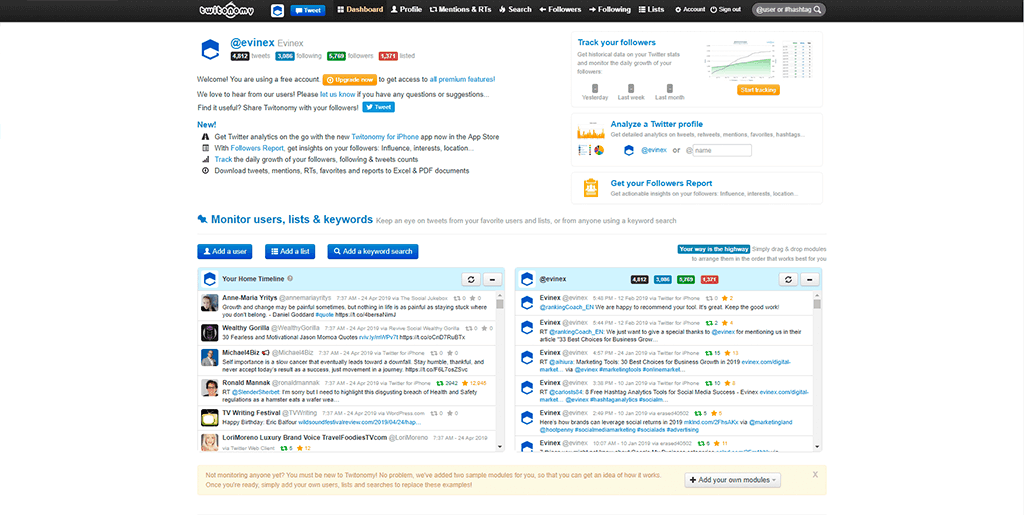 Visual analytics on tweets, retweets, replies, mentions, hashtags
Audience insights
Monitor social interactions
Search analytics
Followers report
Track clicks
Track followers growth
Reduce your Social Media Management to essentials.
HootSuite makes it a lot easier for you to find, schedule, manage and report your social media content.
With this awesome tool, you will definitely be able to automatically schedule lost of social media posts throughout all your social media accounts all in one place.
Needless to say that thanks to HootSuite, not only can you measure the impact of your social media campaigns and get reports, but also you can measure conversions and separate ROI.
What is more, they allow you to find and filter conversations by keyword, Hashtag and location, giving you the chance to know what people have to say about your brand.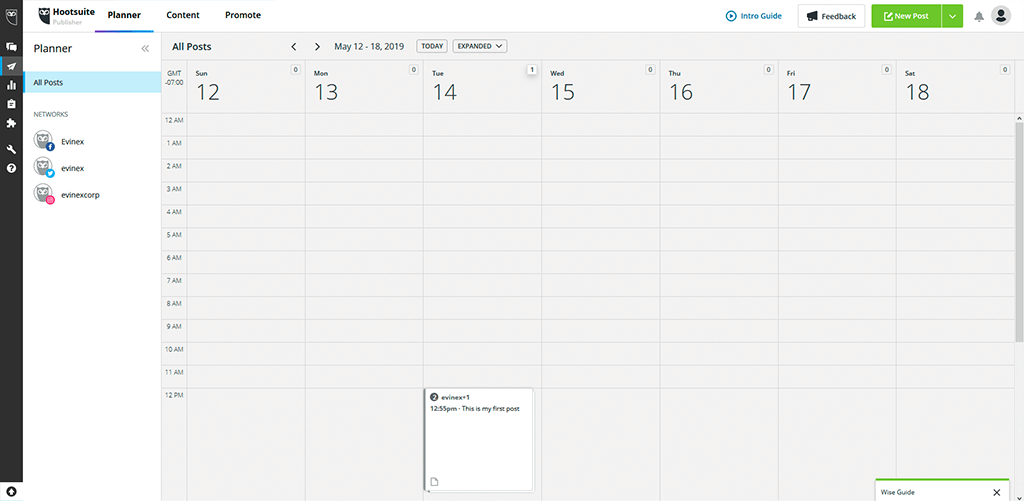 Scheduling your posts
Content curation
Social media analytics
Social media monitoring
Team management
Social media security
Find out new apps and integrations
HootSuite amplify
HootSuite insights
Follow Hashtags and Find Out Conversations.
If you are looking for a way to engage your audience, amplify your events reach and create new revenue opportunities, you should no doubt start using Twubs. It not only encourages conversation but also cares for your trademarks.
This cool tool provides you with a single social landing page so that you can easily communicate with your own audience.
Besides, you will be able to project a totally brandable, customizable, moderated, fullscreen stream of tweets including media. They supply you with a real-time Hashtag feed widget on your website.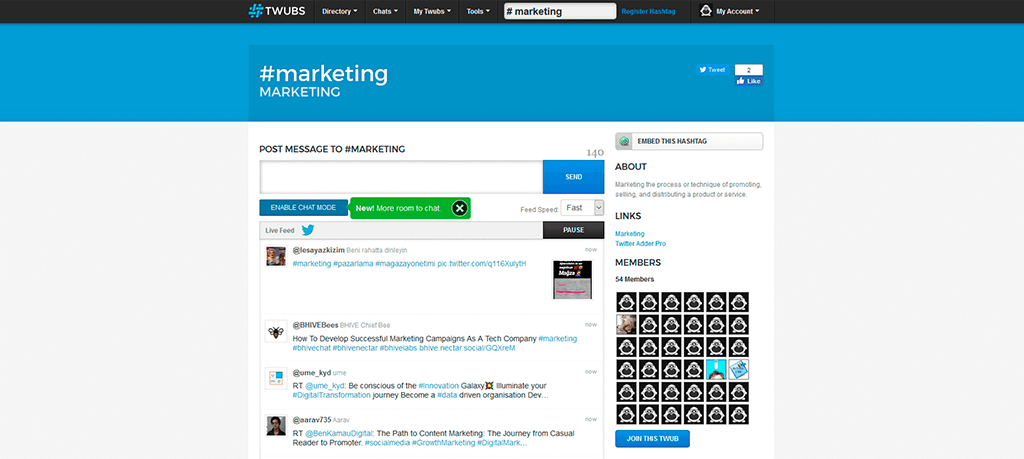 Hashtag directory
Hashtag registry
Impressive Twitter tool for real-time Tracking, Organizing, and Engagement
TweetDeck is a social media dashboard application that you can use to manage your Twitter accounts.
Were you to have multiple accounts on Twitter, this would be the perfect tool to manage them. It allows you to select a default account, though you can tweet from all your accounts too.
TweetDeck gives you the possibility to not only like a Tweet from all your accounts, but also to follow someone from all of them.
Also, you can add columns so as to show all your mentions, the results of a search query, a list of likes, notifications, messages, followers, the latest Tweets from a Hashtag or trend, and so on and so forth.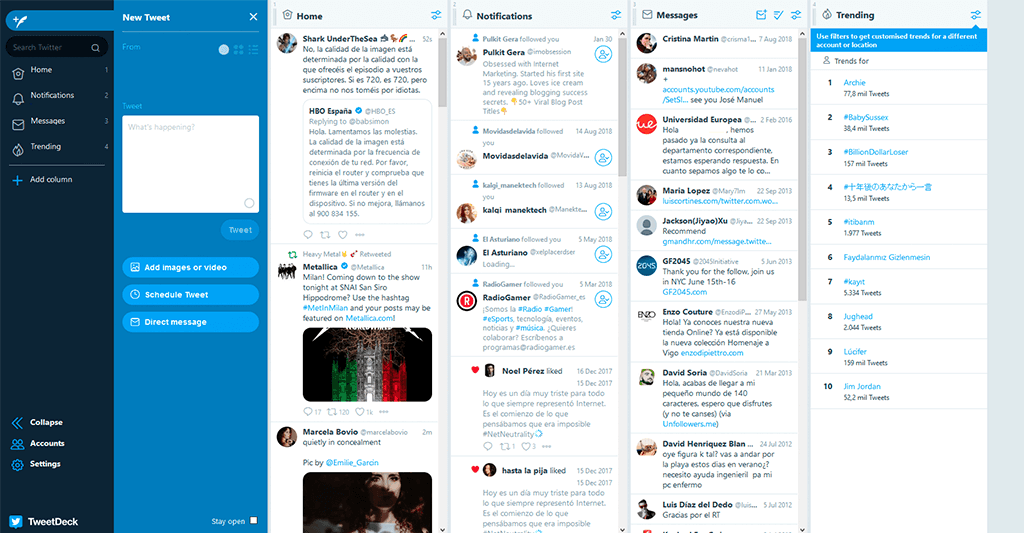 Manage multiple Twitter accounts
Schedule Tweets for future posting
Build Tweet collections
Brilliant Analytics tool for Social Media Campaigns and Events
Hashtracking provides with an impressive, smart and powerful social media tracking.
Besides, they produce not only Twitter but also Instagram snapshot reports that are extremely useful.
If what you are looking for is solutions for your display and events, they will definitely support you with custom, data-driven streaming.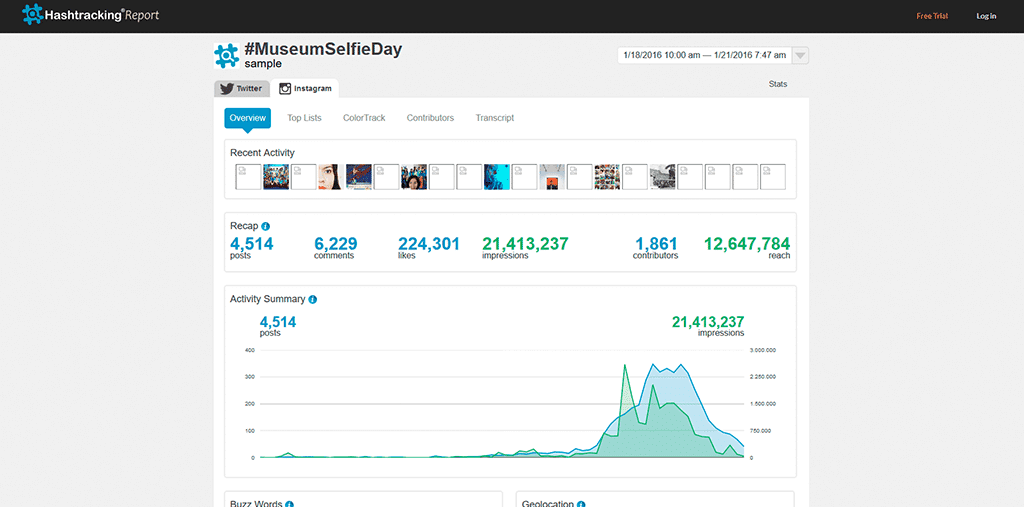 Hashtracking Explorer
Track and share reports
Streaming Wall
Track past, present, and future history
Analyze your data
Track influencers
Color tracking analysis
Export your data
Real-time reporting
Twitter and Instagram reporting
Free trial
$ 50 ~ per month
Social Search and Display Platform
Tagboard utilizes Hashtags to look for and collect public social media in real-time in networks such as Instagram, Twitter, and Facebook.
This tool makes it easier for you to find out social media and quickly share it. Thus, it mainly allows you to connect with your audience across websites, mobile apps, large format displays, and live broadcasts.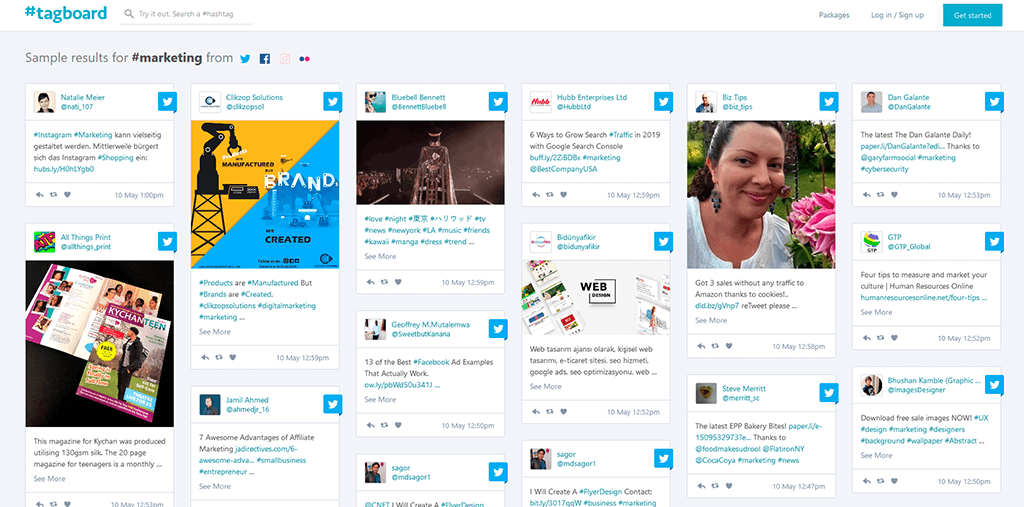 Real-time Hashtag campaigns on Facebook, Instagram, and Twitter
Campaigns stats
Capture consent
Polling feature
Social commerce
API access
On-site support
Live snapchat displays
Account and Hashtag Analytics tool to track your performance on Instagram
Minter.io helps you to measure your audience growth. It tells you information about the gender and geo-distribution of your followers.
No sooner have you started to use this awesome tool than you will be able to determine which of your posts echoes most with your audience. You will also get information about the time when your posts get more likes and comments and which hashtags bring about more engagement.
On top of that, this tool helps you to get a profound understanding of your Instagram community. You will be able to find out the most engaging posts and relevant contributors. You can also measure the success of new products and marketing campaigns.
Not to mention the fact that it allows you to track your competitor hashtags so that you can compare your brand perception with one of your competitors.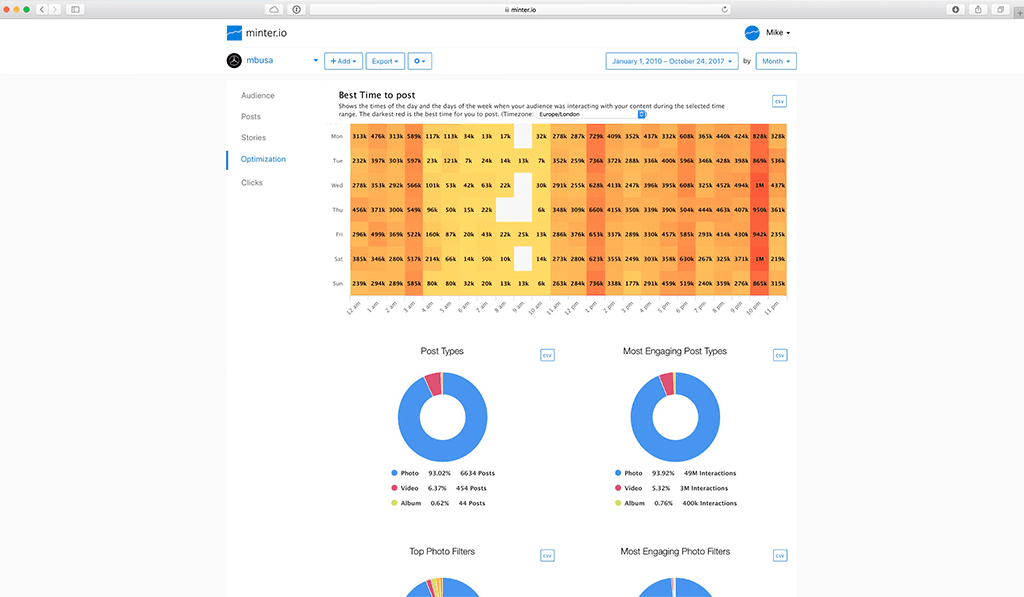 Instagram analysis
Optimize your content
Instagram Hashtag analytics
Instagram stories and Instagram insights
Track your Instagram traffic
Free trial
$ 9 ~ per month/account
Instagram analytics platform based on your audience interests and preferences
Squarelovin helps you to get a lot of data from your customers which you can easily either approve or disapprove, request image rights, and curate content, everything within a single dashboard.
You can also benefit from your Instagram account by getting access to metrics on your recent posts and growth, an analysis per month, and the history of your posts.
They not only give you an extensive insight into your community ́s preferences and interests but also tell you the best and worst times to post.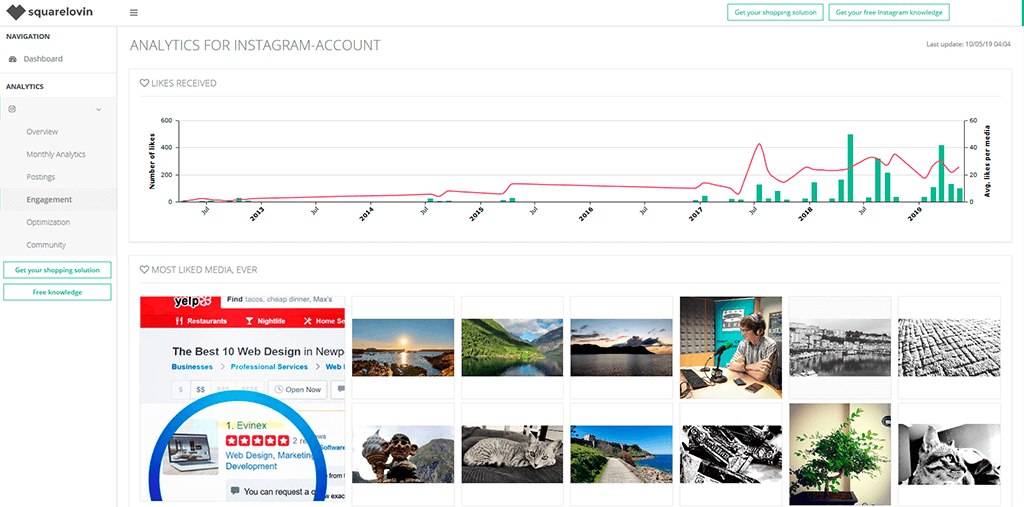 Metrics on recent posts and growth
Monthly analysis
Posting history by year, month, day and hour
Reveal the secrets in the analytics and engage with users better
This tool will help you to empower your social growth using not only insights on social performance, but also get better social engagement on Facebook and Instagram.
You can easily manage numerous social profiles from just one dashboard thanks to Iconosquare.
They also entitle you to share your performance by means of reports that are easily delivered either into your inbox, your team or your clients.
You can also compare your performance with one of your competitors with metrics such as follower growth, engagement and reach.
Iconosquare makes it easier for you to plan your content ahead, schedule and preview your posts before publishing them.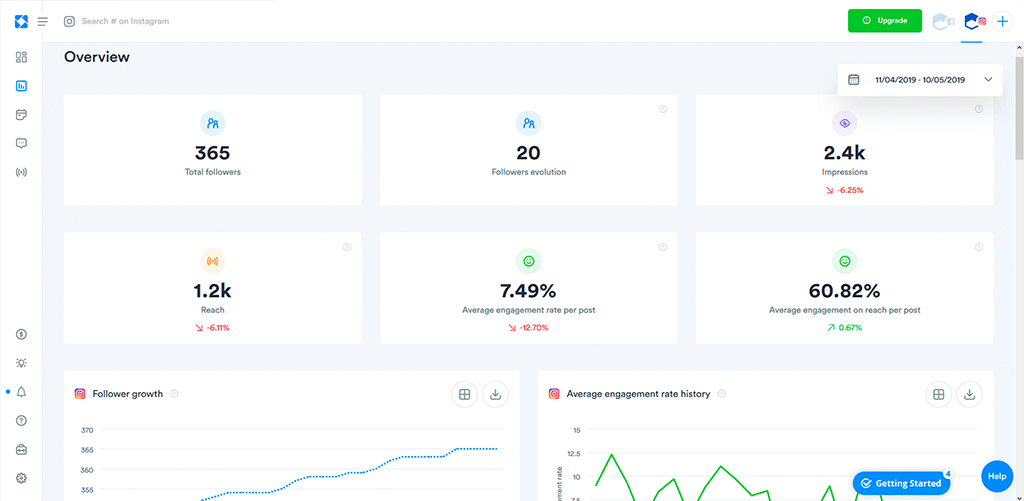 Facebook and Instagram Audit
Instagram Strategy Quiz
Social Media Calendar
Insights on content performance
Manage multiple profiles
Scheduled reports
Competitor tracking and monitoring
Schedule and plan your content
Free trial
$29 ~ per month
Trustworthy Hashtag Tracking tool
Thanks to this fantastic tool, you will be able to track each and every keyword related to your brand. You can also find the most influential and active users, and connect with them so as to promote your content and boost your brand's reach.
In addition, you will be able to track your competitors' keywords, Facebook pages, and Twitter accounts which will allow you to be some steps ahead of them.
Socialert will provide you useful reports that will definitely help you to plan your future marketing strategies a lot better.
With this awesome tool, you will have the opportunity to count hashtag mentions and hashtag usage. They also give you information about top Tweets, links, and the most popular hashtags.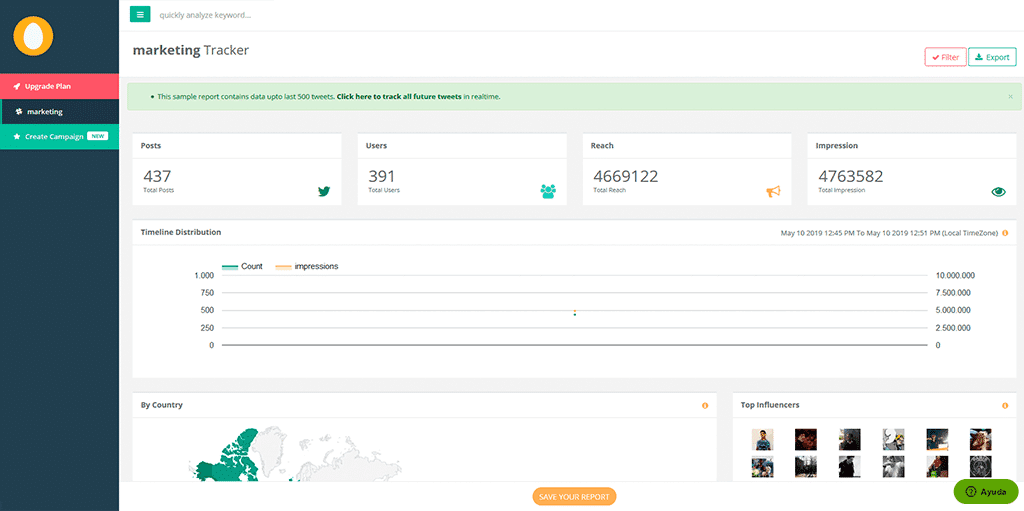 Twitter, Instagram, and Facebook analytics
Get historical reports
Track your competitors
Timeline distribution
Geographic distribution
Separate historical data
Data search filters
Influencers and users tracking
Free trial
$ 29.95 ~ per month
Social Media Analytics, Historical Data, Hashtag and Quote Generator Tool
This incredible tool will provide you real-time insights on any profile, whether it is yours, a competitor's profile or even a client's profile.
What is more, you can get information about a profile up to a year of historical data, all of this in seconds. And not surprisingly, if you visit a profile, it will be tracked daily for you.
This all in one platform is empowered with an amazing competitive analysis that will undeniably help you to explore not only content performance stats, the profile and engagement insights of your competitors, but also track their audience growth on Twitter, Instagram, Youtube, and Facebook.
Last but not least, it is relevant to mention that Seek Metrics provides you with an Instagram and Twitter hashtag generator. Not to mention that you can also generate visual image quotes in just one click that you can use for your posts on Instagram, Twitter, and Facebook.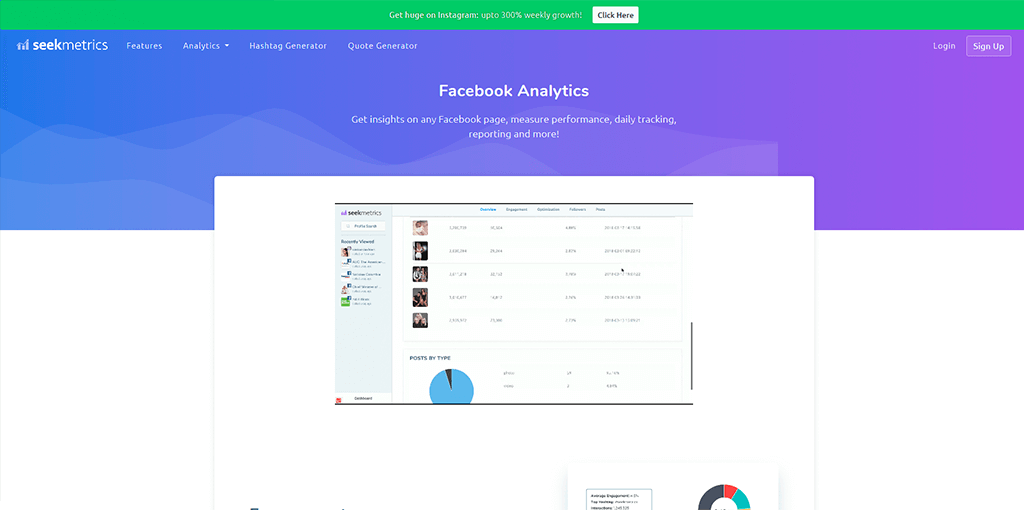 Competitive analytics
Key metrics
Facebook, Twitter, and Youtube Analytics
Hashtag Generator
Quote Generator
Plan and schedule Instagram posts visually with a great hashtag assist.
Later is an awesome tool that makes it really easy for you to plan and arrange your posts on Instagram. You can manage your photos and videos in one single platform and from any device.
It also allows you to see how your posts will look like on your feed before publishing.
With Later you can find what your customers say about you, and then use this information to improve how your audience sees you and even repost user content for advertising.
Interestingly, what this tool does as regards your content on Instagram is to point out what is working and vice versa. So, you might want to use this information to improve how your brand is perceived, get more followers, and post at optimal times.
Later empowers you with their Linkin.bio Integration which means that they help you to drive more traffic to your webpage from your Instagram account as well as helping you to track your sales.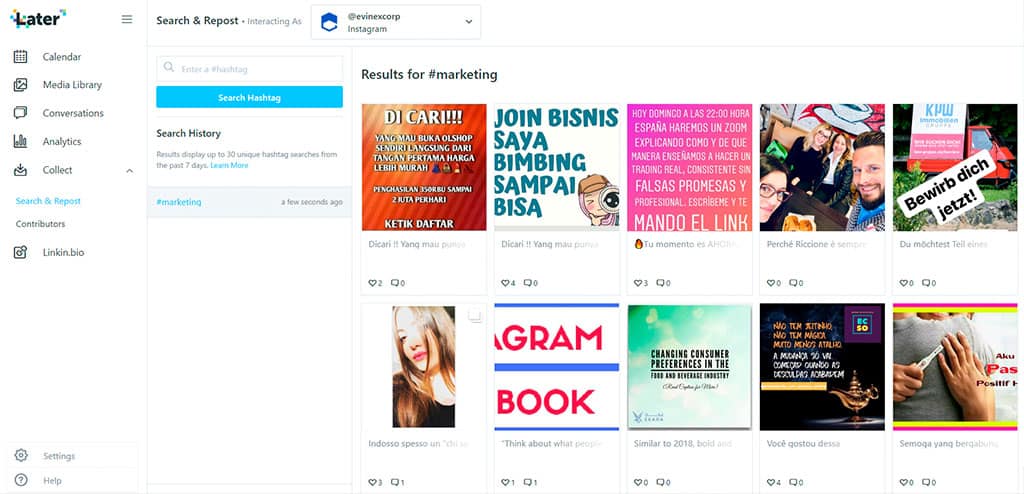 Visual content calendar
Arrange your content with drag and drop
Automatic posting on Instagram
Import videos and photos from wherever you want
Find and repost user-generated content
Identify the best time to post
Analyze your performance
Design shoppable Instagram content
Link your Instagram account to your website and blog
Add multiple links to your posts
Did I miss any Hashtag Analytics Tools?
There you have 40 hashtag tools that help you to find the best hashtags for you.
Now I would love to hear from you!
What do you think of this list?
Are there any of your favorite tools that I missed here?
Let me know by leaving a comment below.