There's no doubt that people use marketing tools to perform their best.
Yet, there are too many business tools for marketing. And it's hard to decide which ones to use.
The question is:
Do you want to invest right in digital marketing tools?
One of the best marketing strategies is to leverage the right tools for you.
I'm going to show you my list of the 57 most practical marketing tools. Above all, these tools will work GREAT in 2023. If you're looking for the best marketing tools, then you'll enjoy this post.
Let's get started!
Chapter 1
Web Analytics Tools
A website is one of the most critical brand elements in online marketing. You can rank high in SERPs and improve user experience if you optimize your website.
If you don't know your visitor's behavior, you cannot make your website be the hub of your business. This makes it difficult to increase your traffic or conversion rate.
But you can learn how to fix these mistakes using web analytics tools.
In this chapter, I'll share the best marketing tools for web analytics for 2023.
Lucky Orange
Witness how exactly visitors use your website.
Lucky Orange captures every visitor's action. Their recording feature shows you everything your visitors do on your website.
Also, it detects when your visitors stop browsing your website. As a result, you can develop strategic plans for your problems.
Besides, their heatmap feature will help you to read your visitor's mind.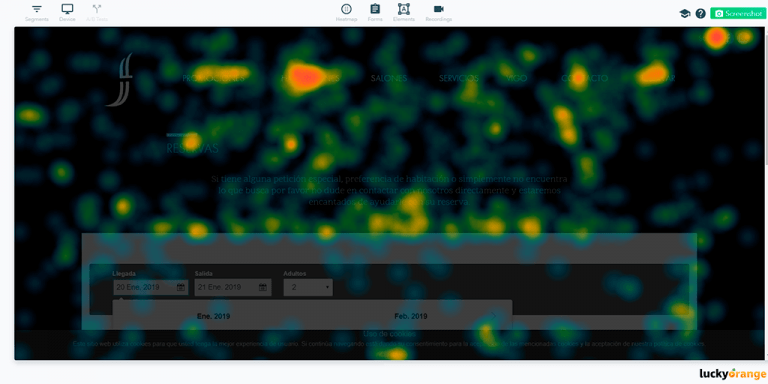 Hotjar
Understand your audience wants and identify why they bounce.
Hotjar is another great web analytics tool that reveals how people use your website.
It visualizes user behavior with its heatmaps and records what they do on your website.
Besides, their conversion funnels identify where you have improvement opportunities.
Thus, you can use this tool to optimize your conversions and user experience.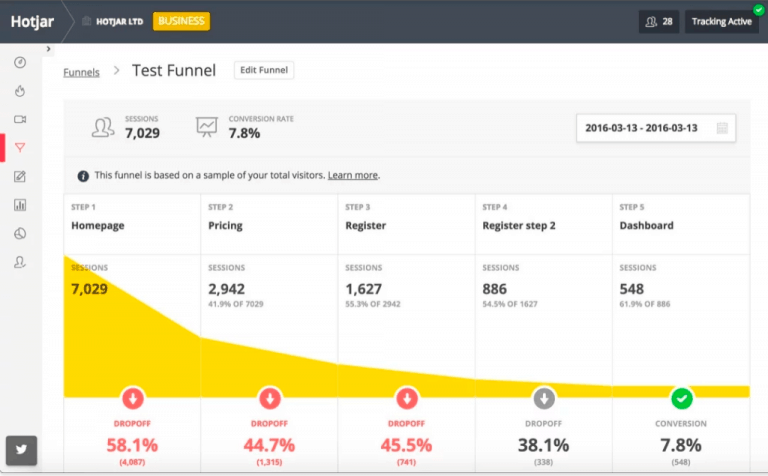 Website Grader
Test how strong your website is.
Website Grader is an online tool that you can use to grade your site against key metrics such as performance, mobile readiness, SEO and security.
It generates a report for any website to view the performance grade, the usability grade, and the overall grade.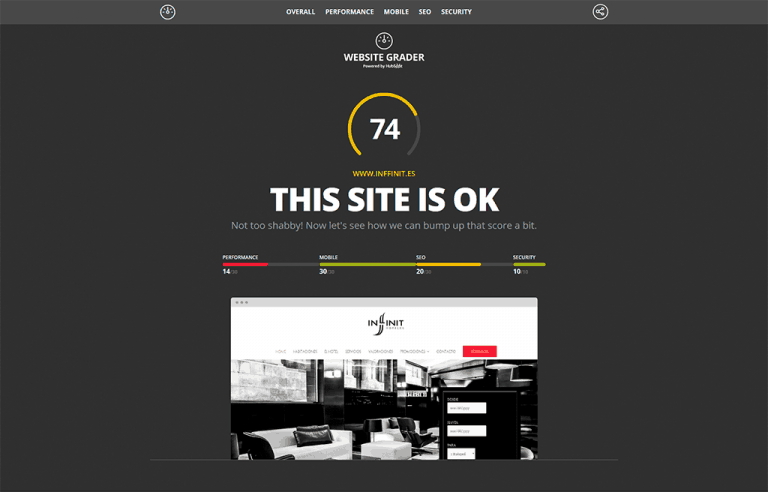 Google Analytics
One of the best web analytics tools on the web.
Google Analytics gives insights into your website traffic and visitors. You will see how the sources use your website.
It helps you to measure your web performance by setting your goals. That makes it easier for you to analyze your ROI.
Besides, you can integrate it with your Adwords accounts and track your ads performance.
In short, this is one of the best online marketing tools for free!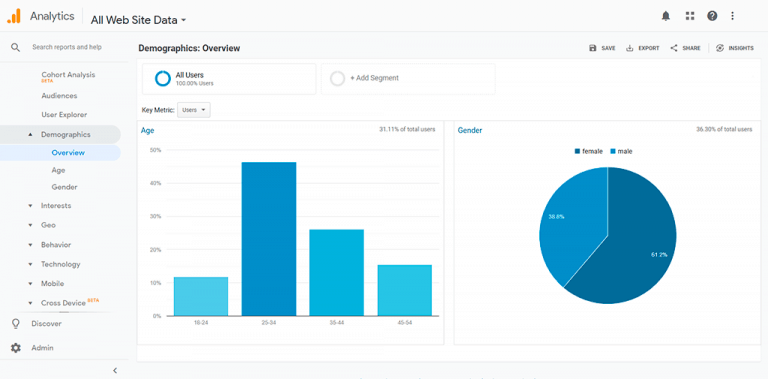 Chapter 2
Search Engine Optimization (SEO) Tools
In this chapter, I'm going to show you the best marketing tools for SEO.
It is critical to give search engines the information they want to rank high in SERPs. So, you need to know what SEO errors your website has and fix them.
Besides, you need to understand what your competitors are doing better. Then you can provide better pages and beat them.
It is scary but true:
If you don't rank at the top of the SERP, you don't exist on the internet.
In this chapter, I'll share my top SEO tools with you so that you can win SEO games in 2023.
Ahrefs
The top-of-the-line competitor research and SEO backlink checker tool.
Ahrefs helps to check popular pages, organic keywords in SERPs and backlinks.
This is a powerful backlink analysis tool. It shows your ranking score, URL, and domain rating based on your backlink profile.
So you can analyze your competitor's backlinks better as well as yours.
Thus, you can improve link building strategies that boost your SEO.
In brief, Ahrefs is one of my favorite online marketing tools!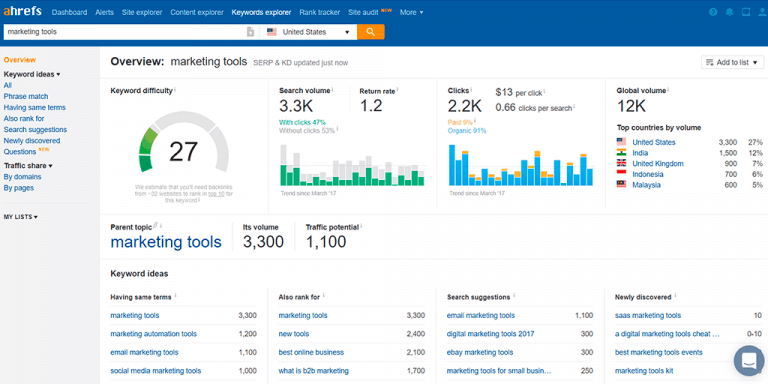 SEO SiteCheckup
Check technical SEO errors and improve your SEO performance.
This is a powerful SEO analytics and web monitoring tool.
You can get an in-depth SEO report that tells you technical errors. You'll see many improvements from HTML and CSS efficiency to site speed.
Besides, it provides you tutorials to fix those problems. Thus, you can work on them right away.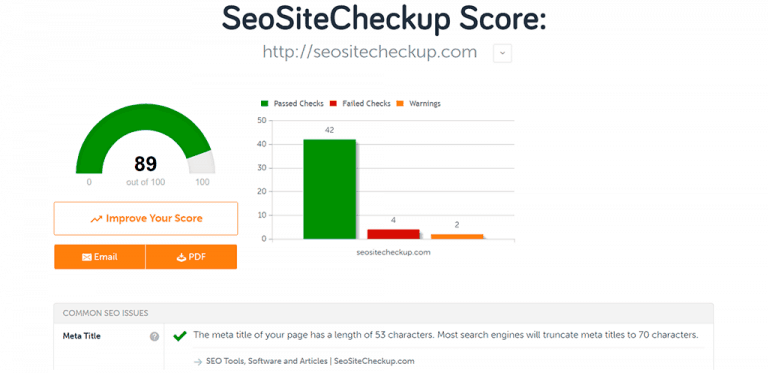 Google Search Console
Google's rank-tracking, index coverage, and conversion checker tool.
It's one of the best tools for SEO that comes from Google. It lists all the errors you have with Google search.
Google Search Console gives detailed information on a specific URL. For example, you'll see index coverage and canonical URL.
Thus, you can fix your website errors and provide a better user experience.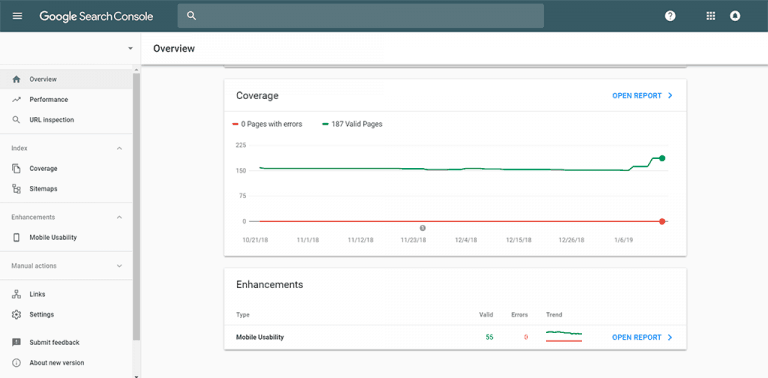 Google PageSpeed Insights
Check what makes your website slow loading with actionable suggestions.
This is one of my favorite free SEO tools since it tells you how fast your website loads. It analyzes your page and gives its performance scores with some audits.
It also suggests how to improve the loading speed and usability.
In short, you will know the exact steps to speed up your website.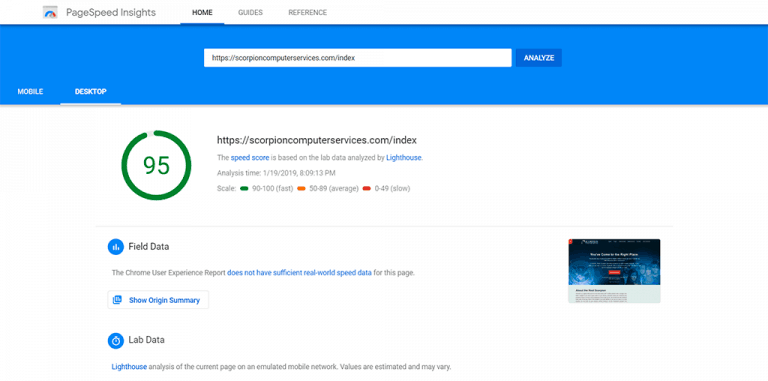 Yoast SEO Plugin
The No.1 SEO plugin for WordPress users.
Yoast SEO Plugin audits your page's SEO and readability.
It shows a list of analysis results and tells you how to improve them. You can configure the title, meta tag and canonical URL for search engines with this tool.
Yoast SEO creates advanced sitemaps and manages social sharing.
Above all, this SEO marketing tool is a must if you use WordPress.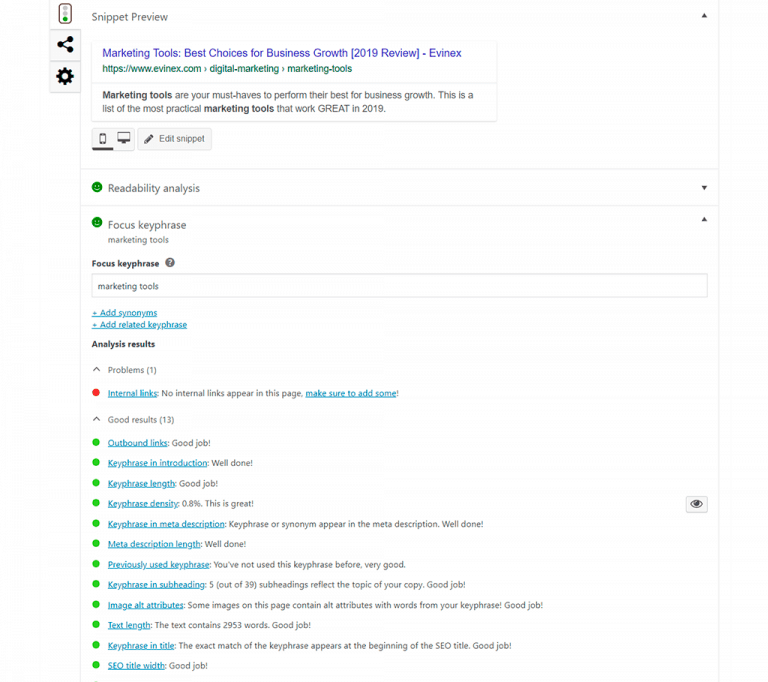 Screaming Frog
Track websites ́ URLs and bring key elements to analyze and audit technical and onsite SEO.
Screaming Frog is an amazing app that you can use to effectively crawl both small and very large websites.
What is more, it enables you to analyze the results in real-time.
Thus, it collects key onsite information to allow SEOs to make decisions based on the data they've just obtained.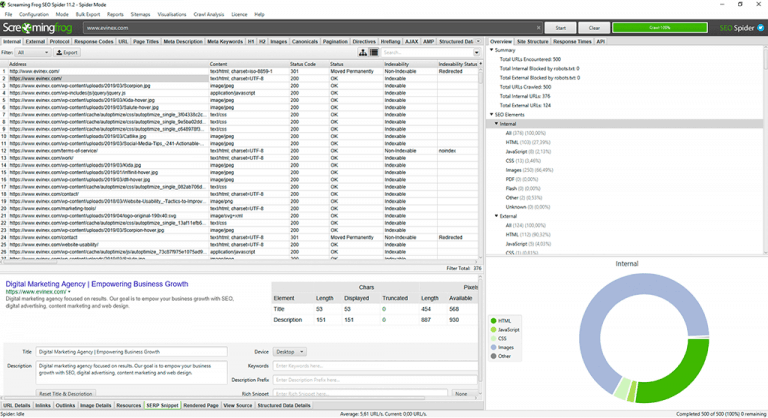 Answer the Public
Gain valuable search intents for your keywords.
Answer the Public shows what searchers type into Google for a specific keyword.
It finds questions, prepositions, comparisons, alphabeticals, and related searches for your topic.
Thus, you can get these valuable search intents from many angles.
It is a unique way to generate content ideas and improve your content.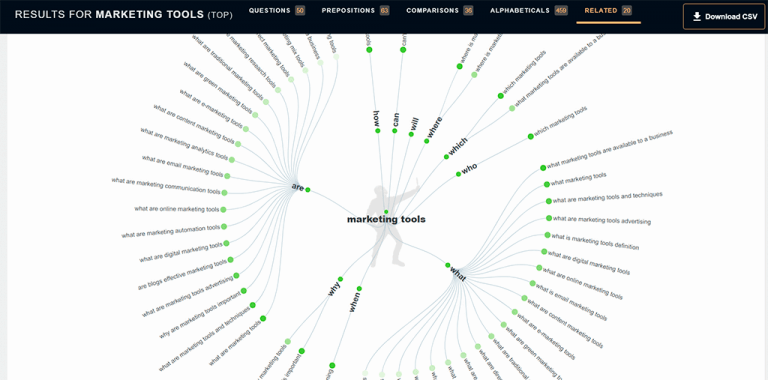 Keys4Up
Add LSI keywords into your entire content to boost your SEO.
Keys4Up is one of the greatest keyword research tools especially for LSI keywords.
It automates to find your LSI keywords from having the same term to relevant keywords.
By adding these LSI keywords, you can make your content more relevant for search engines.
This will help you to rank higher in SERPs and drive more traffic.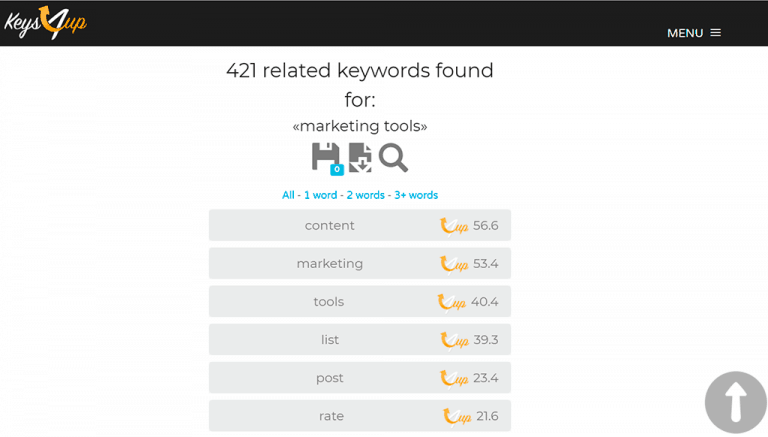 Link Prospector
Finding your new outreach and link building opportunities.
Link Prospector helps you to locate and arrange new outreach opportunities as well as to give your content the relevant amplification it needs to get more links and shares.
It also helps you to promote your content to link pages, or you can even use it as a supportive resource in a guest post.
Besides, you can promote your content into industry related blogs or to journalists using this tool.
You just have to type in research phrases to create a new campaign, and it will report back-related pages which you can use to send emails and build links.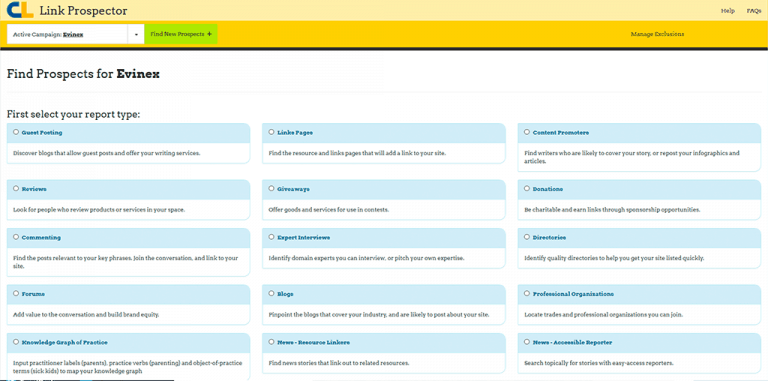 Siteliner
Get your website insights about duplicate contents, broken links and more.
Siteliner is a free marketing tool that detects SEO errors including duplicate contents.
It tells you how your website is, compared with other sites that Siteliner scanned.
Thus, you can see what pages of yours impact search engine rankings and confuse visitors.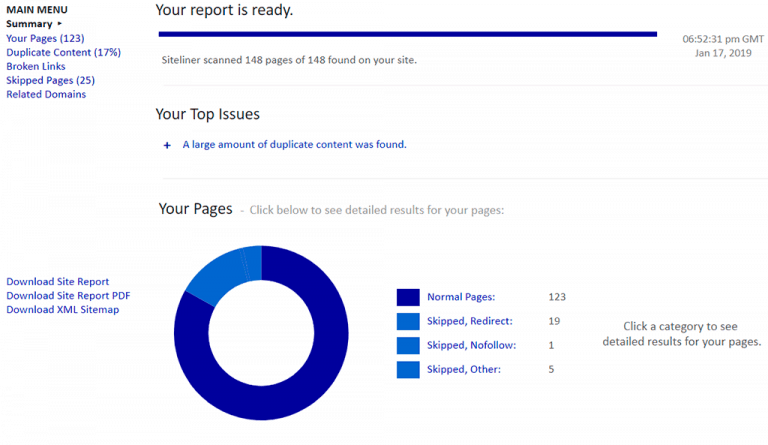 ---
This is all for our top picks in search engine marketing tools. I hope you enjoyed this list. Remember, there are many more free digital marketing tools available, whether you are new to marketing or already running a successful marketing campaign.
Chapter 3
Local SEO Marketing Tools
The following local SEO tools will help you to boost your local results.
Only implementing technical SEO doesn't make it easy for people to find you in local search.
In this chapter, I'll share the local SEO marketing tools that will help you to improve your local search.
Yext
Ensure your local business information is in local directories.
Yext is one of the best local business management tools.
It controls your business contact information for up to 70+ local directories. What's more, you can update your NAP in each list at once.
Besides, it suppresses duplicate listings and monitors reviews.
For these reasons, I use Yext more over the other similar digital tools.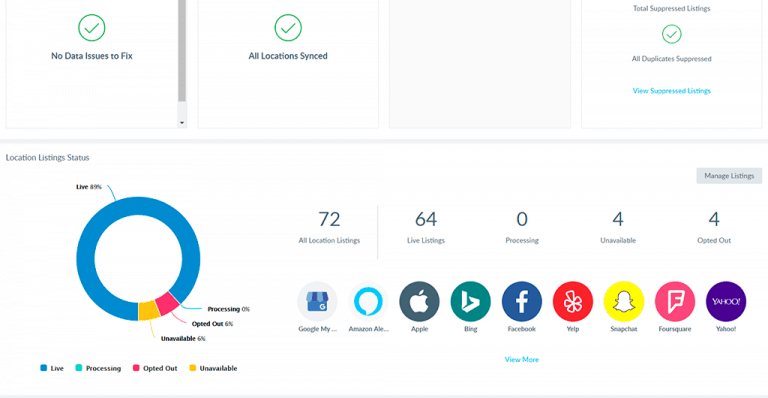 rankingCoach
Leave your competitors behind using their keyword suggestions.
RankingCoach optimizes your website from angles of SEO, local SEO, and social media.
It allows you to see what step to take next on the dashboard and tells you how to improve your website step-by-step.
Besides, the keyword research algorithms and competitor analysis tell you the best keywords. So, you can stay ahead of the competition.
If you're new to local SEO and on the search for new marketing tools, I strongly advise you to try it.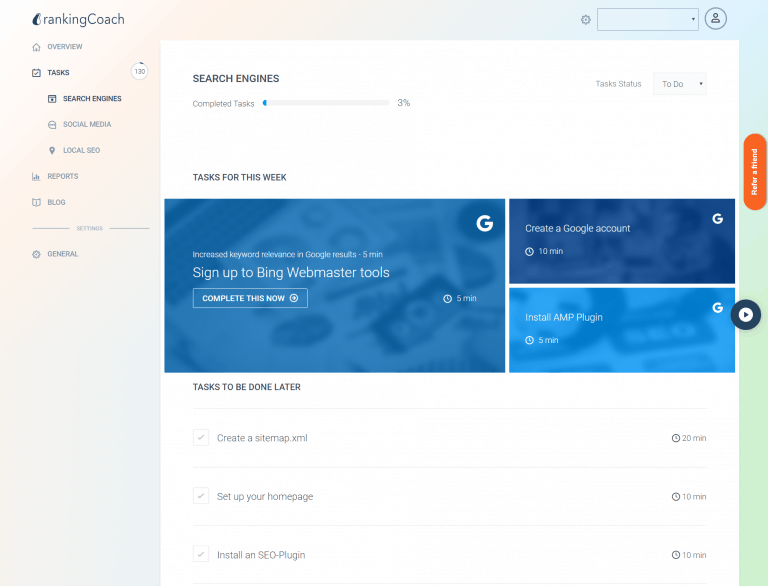 Moz Local
Make your business listing accurate and consistent for local search.
Moz Local shows you how complete your local business listings are on each network.
What is more, it tells you where your incomplete listings are with their listing score.
As a result, you can make your NAP consistent across all the local directories.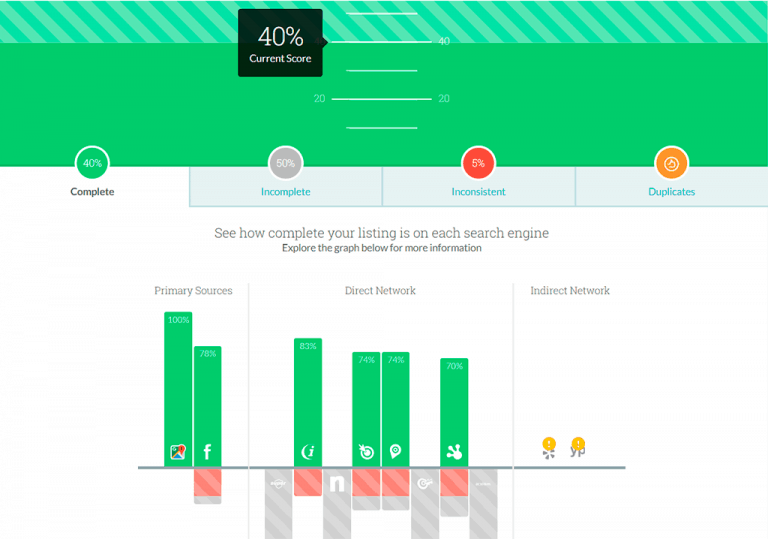 Chapter 4
Digital Advertising Tools
These days, it's all about how to succeed in digital advertising techniques.
Digital advertising is a resultful investment for your business.
Now that more and more pages display before organic results in SERPs, 41% of clicks go to the top 3 paid advertisements on the search results page.
To sum up, you need to ROCK if you advertise your website and content.
In this chapter, you'll see my favorite advertising strategies with tools. These marketing tools can help you to improve your search engine marketing campaign.
SEMrush
The world's best keyword research and competitor analysis tool.
SEMrush shows how your competitor gets search traffic and which keywords they rank.
It uncovers your competitor's marketing strategies and your keywords opportunities to convert.
You can use exact-match keywords for your bidding to create your converting advertising.
In short, this marketing tool is indispensable for digital advertising campaigns!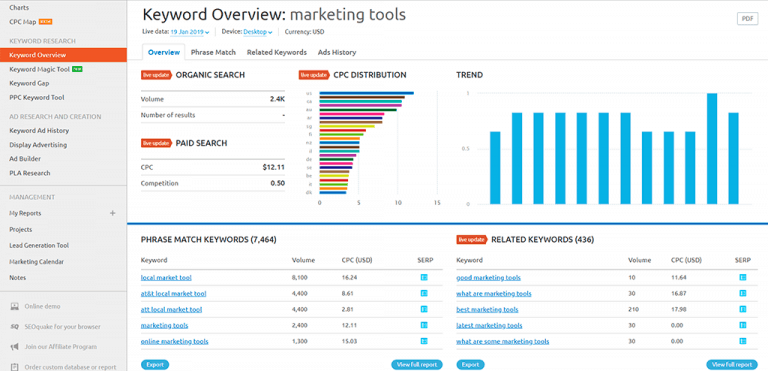 Google Keyword Planner
Choose your keywords from the most reliable data on Google.
Google Keyword Planner is one of the most popular keyword research tools.
This marketing tool helps you to see how competitive your keywords are, and it also provides new keyword ideas.
Their keyword bidding feature shows how much Google advertisers pay for specific keywords.
This tool requires you to have only a Google AdWords account. But you can use its database without creating a campaign in Google AdWords.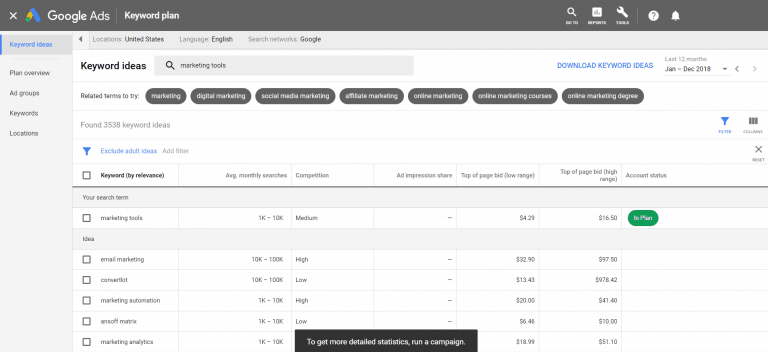 Google Adwords Editor
Google's handy PPC management tool.
Google Adwords Editor helps to update and manage tasks for your advertising campaigns.
It allows you to make changes in your ads conditions offline. So you can make adjustments anywhere when needed.
What's more, this tool shows new keyword opportunities for you.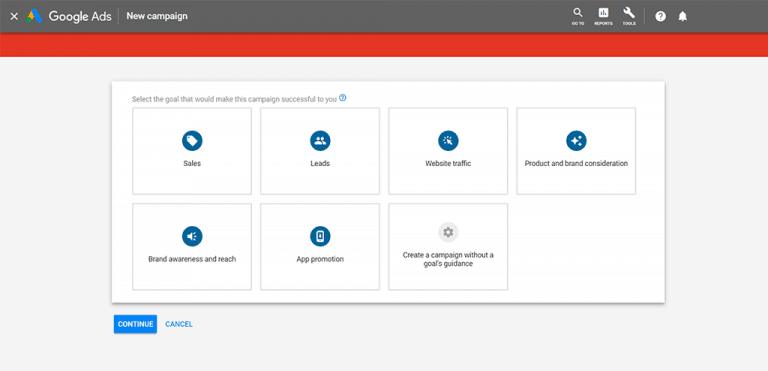 Chapter 5
Content Marketing Tools
In this chapter, I'll cover the best content marketing tools for 2023.
Well-optimized content will lead your audience through the sales and action cycle.
Yet, if you don't have pieces of content that perform best for SEO rankings and get backlinks, people cannot find you.
So, the question is: How can you make your content marketing stand out?
I'm going to tell you how to push you ahead of your competitors with these outstanding marketing tools.
BuzzSumo
Content marketer's must-have tools that find real shareable content.
BuzzSumo provides you with a list of the most shared content across all social networks.
Besides, it identifies the best influencers for a specific keyword.
Thus, you can get what kind of content people share for a particular topic. This way, it is easier for you to create better content.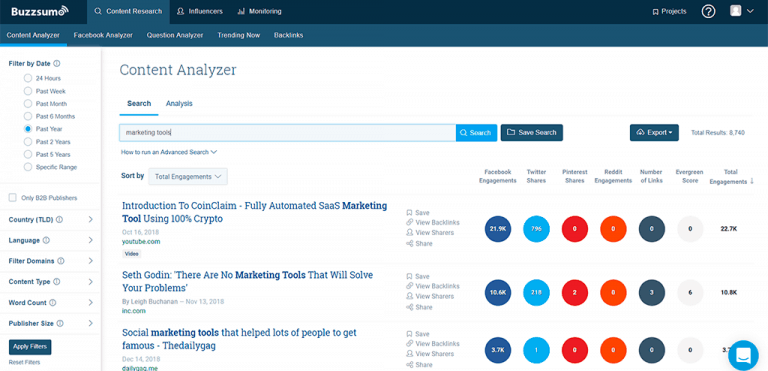 Ubersuggest
Give keyword ideas for your future content.
Ubersuggest is one of the best marketing tools for keyword research.
It provides you an insightful overview of search volume, SEO difficulty, and cost per click.
On top of that, you can get a bunch of keyword suggestions for your keywords, and you can see the keyword's SERP analysis.
Thus, you can target the keywords that are possible to rank in the top results on Google.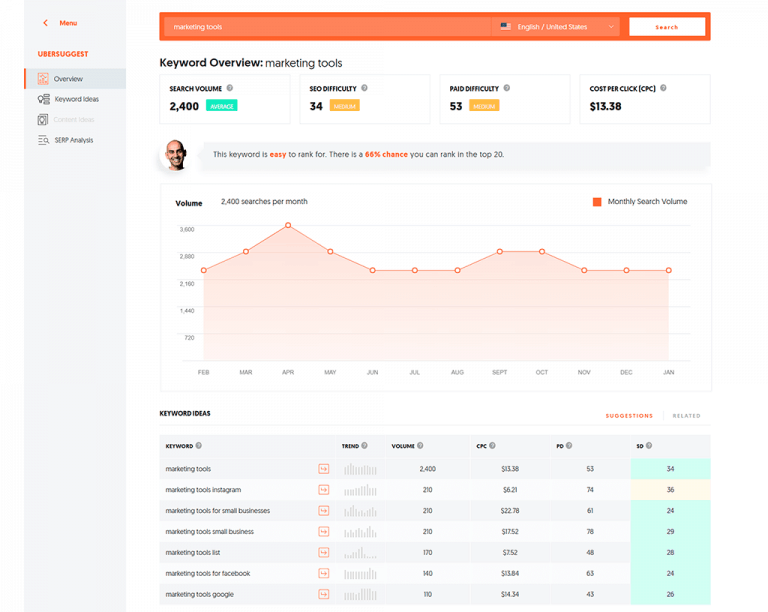 Hemingway Editor
Get your writing clear and bold, and engage your audience.
Hemingway Editor highlights complex sentences and weakening phrases.
It tells you where you use the passive voice and compound words to rephrase.
You can revise the sentences that are hard to understand until the warning disappears.
By fixing these defects, you can improve readability and convert better.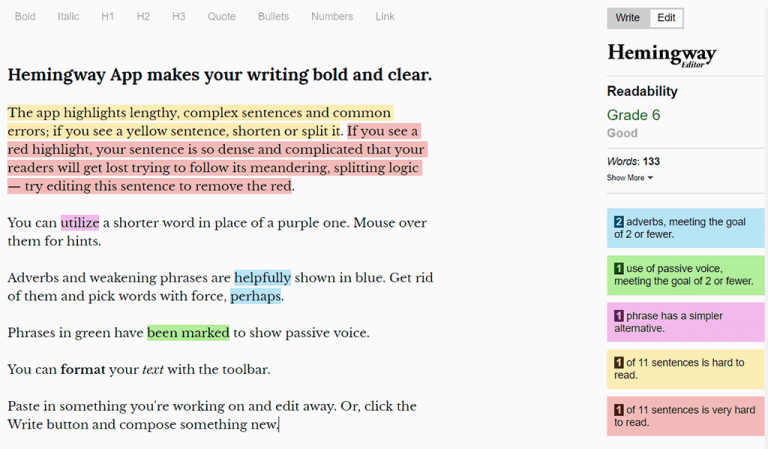 Canva
A handy browser-based visual design tool for non-designers.
Canva makes it easy for non-designers to design visuals with a drag-and-drop interface.
It offers a massive list of pre-made templates, fonts, colors, filters, icons, and shapes.
Besides, it allows you to create your templates and save them in your Canva account.
If you don't have a designer in your team, Canva is a great choice for your visual content!
Grammarly
Your secret writing assistant that detects your grammar mistakes.
This is one of my favorite marketing tools since it helps me to deliver error-free messages.
It highlights your writing mistakes and tells you what you have done wrong in real-time.
You can avoid grammatical mistakes that destroy your credibility and have clear communication.
It's a free online marketing tool. Why not give it a try?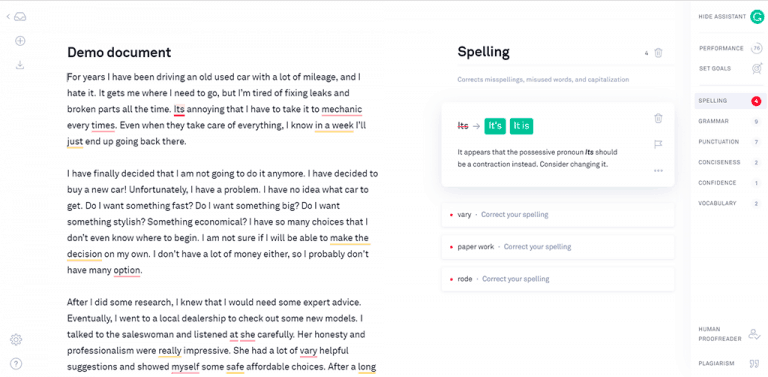 Google Trends
Check if your keywords have search demands before setting your topic.
Google Trends shows search interests by search volume, related topics, and related queries.
Besides, you can compare up to 5 keywords to see their search popularity.
So, you can choose topics or keywords based on what the world is searching.
In brief, Google Trends helps you to avoid focusing on wrong keywords.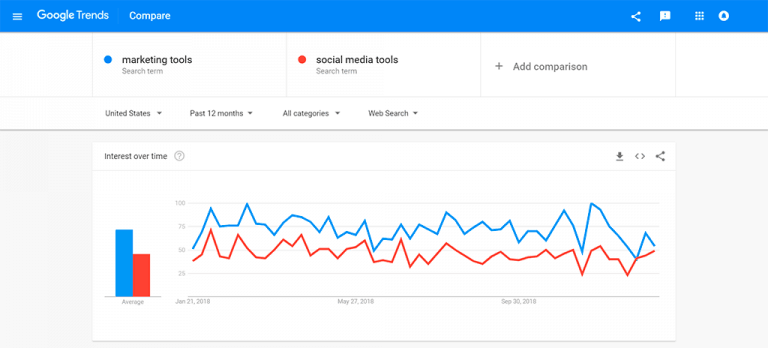 Placeit
Your visual content is made for you.
Placeit is a growing template library that is constantly updated with the latest design trends for every need.
You can create everything from a logo, branded marketing assets, to videos with original soundtracks.
You'll find it easy to customize mockups, designs, or video templates. Then, you can save or download them.
This tool is perfect for non-designers, solopreneurs or teams. Check out their free templates.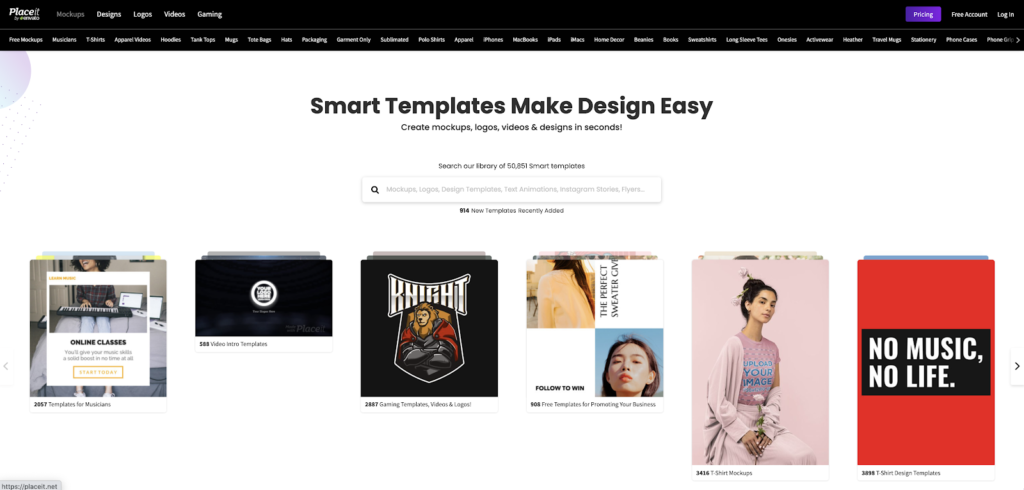 Creatopy
An intuitive and efficient all-in-one visual design platform.
With Creatopy you can craft engaging visuals for ads or social media, taking advantage of industry-specific templates, animation features, an extensive photo, and video library, and audio stock—no coding required.
One of the platform's strongest points is the generator allowing the simultaneous replication of design in different sizes.
Teamwork also comes in handy with Creatopy's collaboration feature, and staying on brand is easy with the platform's brand kit"
Chapter 7
CRM / Email Marketing Tools
It's no wonder that acquiring new customers is very important.
Yet, retaining them remains the key to business growth.
You need marketing strategies to improve customer experience after the first contact.
In this chapter, from subscriber management to customer service, you're about to see my top CRM tools and lead generation software.
Then, you'll be ready to create personalization and improve your engagement rates.
OptinMonster
Convert your visitors into subscribers in optimal ways.
This is one of the most powerful conversion optimization and lead generation tool.
You can create many types of forms including popups and bars.
With an exit-intent technology or session duration, you can show your forms the way you like. It allows you to target by page, platform, location, etc.
Besides, you can improve your performance with A/B tests.
In brief, you can maximize conversions and grow your email list.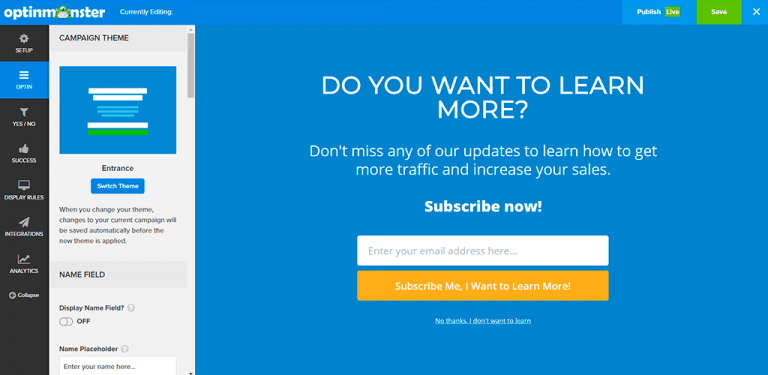 Hubspot CRM
Manage your pipeline and nurture your leads and customers for free.
Hubspot CRM organizes every interaction history with your customers.
After creating contact profiles, you can track deals and the assigned people's performance. So, you won't have to dig through all the index and documents to see what's your next move.
It also allows you to have a real-time conversation with customers to build relationships.
Besides, Hubspot CRM integrates with other Hubspot marketing tools to upgrade your services.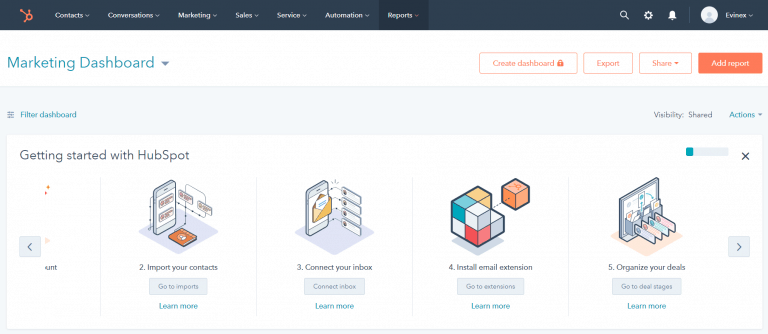 Moosend
Powerful email marketing & automations platform.
Moosend makes email automation undoubtedly easier for you. Whether it's a newsletter or a campaign, this tool allows you to automate as you go. You can even design your own automation workflows.
By using this tool, you will be able to design awesome email marketing campaigns easily, track your email marketing performance in real time and send the right message to the right person at the right time.
What is more, they use Message Systems infrastructure. So, this will definitely help you to increase your delivery rate and ROI.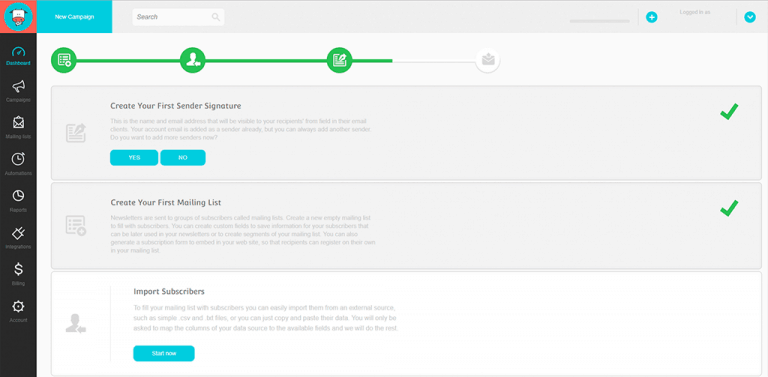 BuzzStream
Test influencers, arrange your relationships, and conduct outreach that's individual and productive.
BuzzStream helps you to find out contact information, social profiles and site metrics. It makes it easier for you to arrange in order of priority the most important and influential contacts.
Besides, you'll never lose track of a conversation with this tool because it automatically saves your emails and tweets. And it allows you to set reminders to follow-up.
You can use BuzzStream to cooperate with your teammates and share information with them so as to keep your projects well organized.
It also gives you a profound insight into your outreach campaigns, team performance and link placements through personalized reports.

Hunter
Conduct a quick contact information search.
Hunter is an email hunting tool that finds email addresses by typing a domain name.
It allows you to connect new leads that you want and grow your contacts list.
Besides, you can search for a specific person's contact information with Hunter.
This tool is good to use for capturing B2B leads and outreach.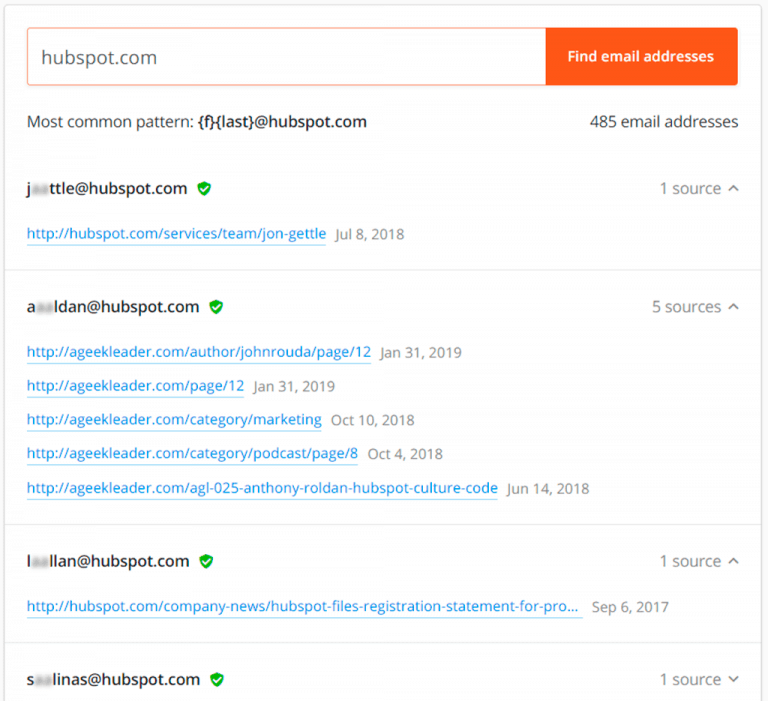 MailChimp
One of the best email marketing automation tool.
MailChimp is one of the most popular free email marketing tools.
It allows you to create HTML customized email marketing templates for campaigns.
It helps you to increase subscribers and segment them into different email lists.
As a result, you can craft engaging emails and improve email experience.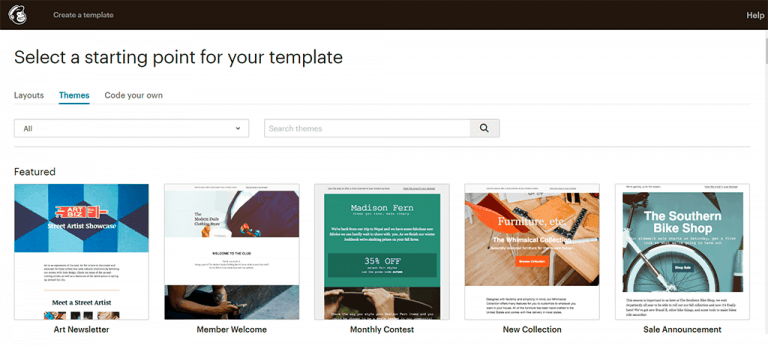 Salesforce
The world's best innovative CRM solution for customer service.
Salesforce helps you to build one-to-one marketing relationships using cloud-based customer relationship management.
It offers several cloud services that automate customer services. And you can get a full view of reps and all the performance they had with each customer.
In other words, Salesforce helps you to connect to your customers in practical ways.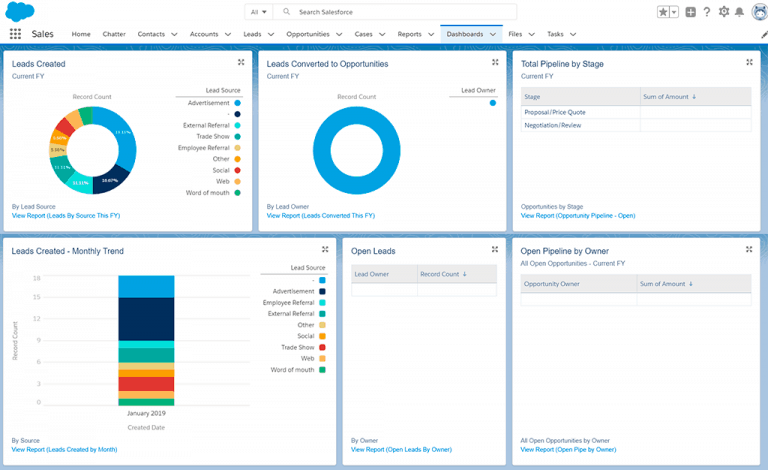 Chapter 8
Reputation Management Tools
If you have an online business, you need to take care of your online reputation.
Online reputation can not only grow your business but also destroy your credibility.
In this chapter, I'll cover some online reputation management tools.
Google Alerts
No more overlooked online mentions and respond to the findings in real-time.
This is the easiest way to check online mentions about you.
Google Alerts sends you a notification when it finds your registered keywords on the web.
You can see where people talk about you and how your content performs.
By tracking your competitor's mentions, it will also tell their marketing activities.
Don't miss the opportunity to build relationships with these leads.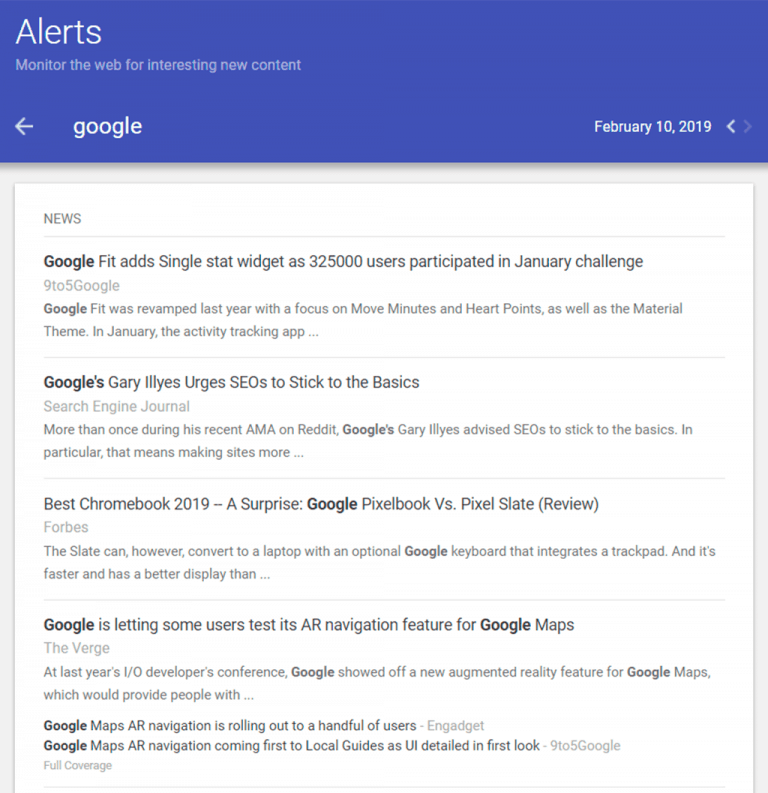 BrightLocal
Control and grow your online business reputations.
BrightLocal is an integrated SEO platform that makes reputation management easy.
It creates customized review-request emails and generates more reviews that matter to you.
This makes it easier not only for you but also for your customers to give feedback.
Also you will have local SEO and citation tracking support from BrightLocal.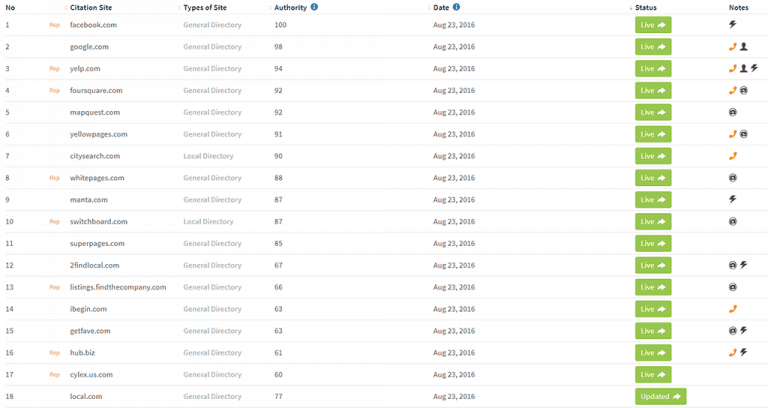 ReviewInc
Manage most of the online review sites and boost your visibility
ReviewInc gives you control over feedback for over 600 major review sites.
It creates surveys, coupons and autoresponders that improve your branding.
On top of that, you can customize each section of ReviewInc and make it work for your business.
Besides, ReviewInc optimized all these features for mobile use.
So you can control your online review and reputation anywhere.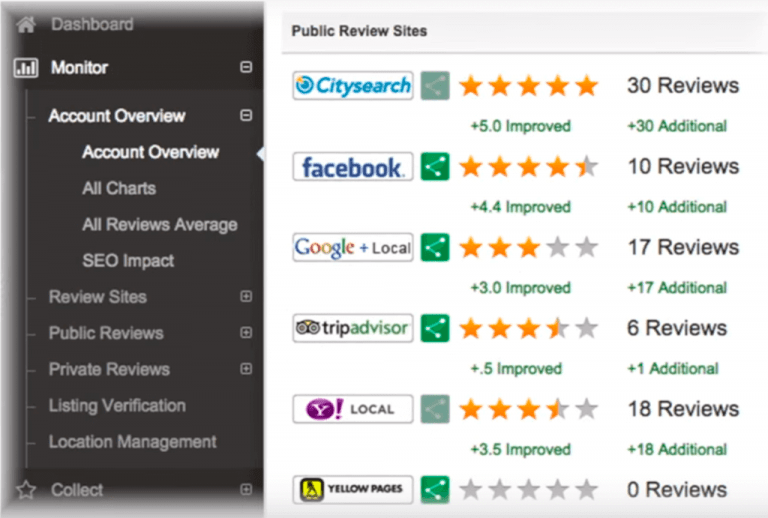 Whitespark
Gain online reviews and customer feedback.
Whitespark takes control of your reputation and gets feedback and testimonials.
Also, it measures customer satisfaction and gives you insights of your customer experience.
This will make it easier for you to solve problems if any, and improve your strengths.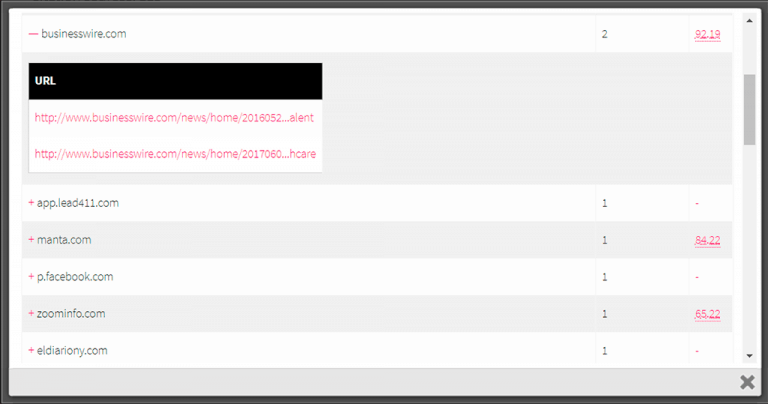 Chapter 9
Collaboration Tools
Finally, I'm going to share my everyday marketing tools for teamwork.
Collaboration tools improve productivity and get things done in less time.
In short, having the right collaboration tools is essential. Unless you work alone.
In other words, this is where collaboration and teamwork happens.
Slack
Your must-have online business team communication hub.
With Slack, your team can communicate and work in an efficient way. You can send messages, call, share files and transfer codes with groups or a specific person.
It integrates with most of your marketing tools including social media and WordPress. Thus, you can have all the communication in one place and manage your marketing team efforts.
Creating channels for your purposes in Slack makes it a lot easier for your team to keep projects on track.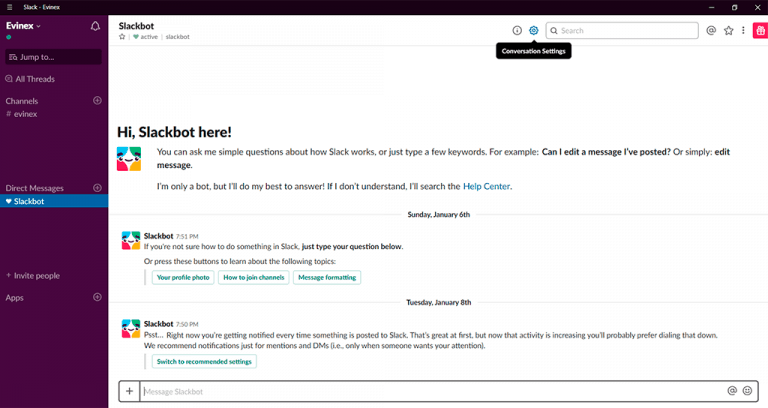 Atlassian JIRA
The best agile project management and development tool.
JIRA is one of my favorite PM tools since it controls how agile projects complete.
This tool has lots of functionalities and integrations from JIRA marketplace. So, you can customize project-workflows and adapt them to your company processes and needs.
Besides, your team can always access up-to-date information to respond to changes anytime.
In brief, JIRA has everything you need for project management.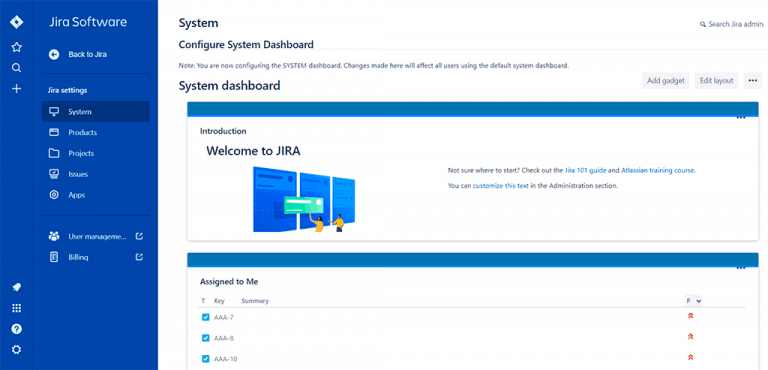 Trello
The free agile project and workflow management tool.
Trello is one of the best free communication tools on the web. It organizes your projects and shares development workflows within your team.
It allows you to create boards, lists, and cards with members, due dates and more information. You can add everything on projects including files and feedback.
Moreover, it manages your workflow and makes all the projects visible.
In short, Trello enables you to chase what tasks are active and who is working without having to ask anyone.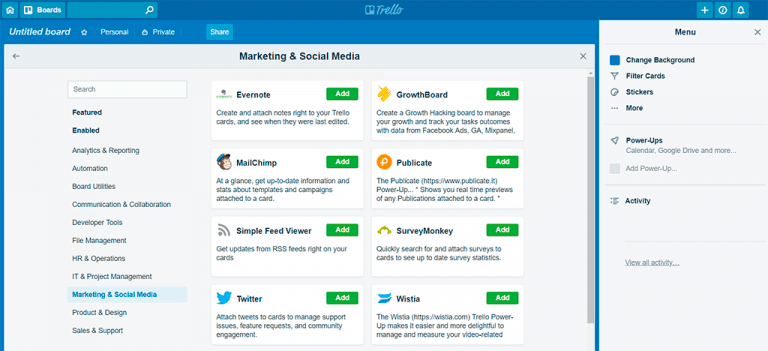 IFTTT (If This Then That)
Help your apps and devices to work together.
IFTTT works with Applets that bring your services (the apps and devices you use on a regular basis) together to create new experiences. Thus, each service has different applets you can turn on.
For example, you can build a smart home that automatically turns on your porch lights welcoming the pizza delivery guy.
Other typical pairings are tweet your Instagram images as native Twitter photos or creating an event on your iPhone's Calendar with Google Home.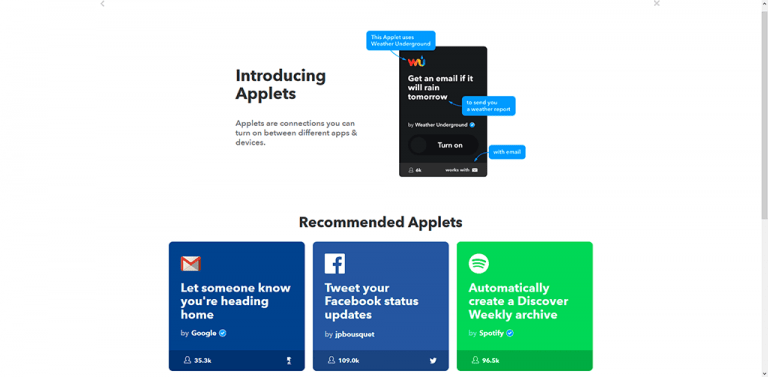 CoSchedule
All-in-one marketing platform that organizes all your marketing activities.
CoSchedule creates powerful marketing calendars for your marketing campaigns.
You can share weekly schedules with your team and improve your workflow.
It creates cross-functional calendars and shows you the progress of each performance.
So, you can set realistic goals and approach the problems to complete on time.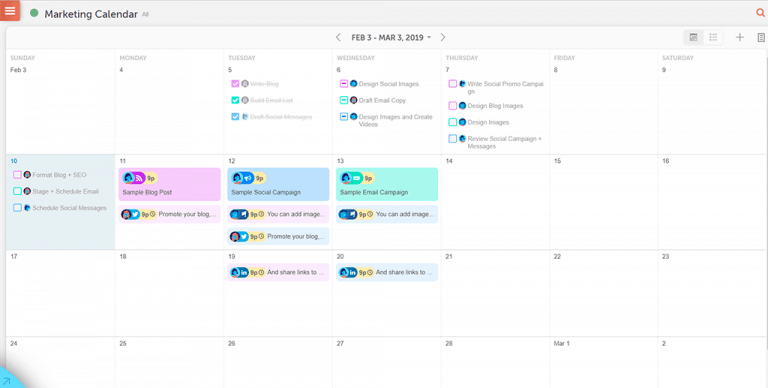 Google Drive
Google's free online cloud storage tool.
Google Drive allows you to keep your data organized with your online marketing team.
You can upload files and folders and share them with others.
Besides, it integrates with other Google services. So you can handle multimedia sources with this tool.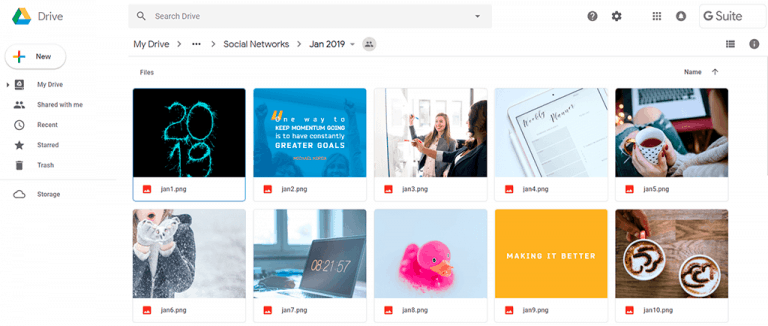 Milanote
Milanote is a tool to organize ideas and projects into visual boards.
It includes features like notes and to-do lists, drag and drop, share with teams members, ability to upload images and files, save inspiration and ideas from websites, and a mobile app to add notes and photos from the phone.
Other writing software is organized around the idea of linear documents. Milanote is designed around the idea of non-linear writing to match the way writers and creatives think. And they've recently started creating helpful templates for the writing process to help people get started faster.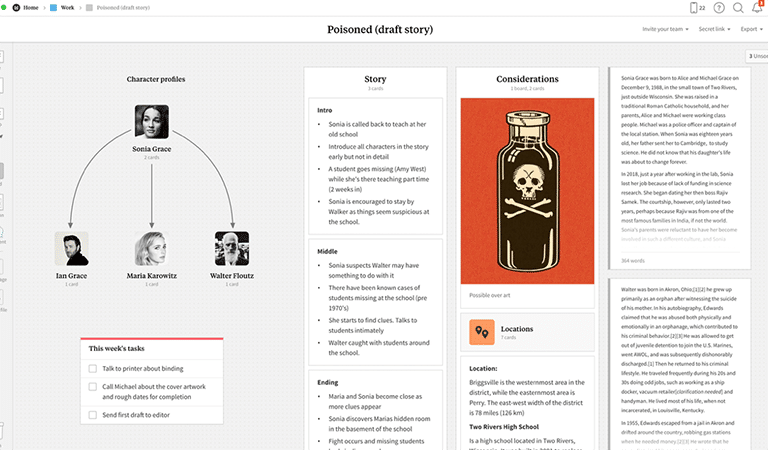 What's your favorite marketing tool?
In conclusion, these are my best marketing tools for 2023.
Now I'd love to hear your take.
Which online marketing tools in this list are your favorite?
Or didn't I mention any great digital marketing tools or techniques?
Let me know by leaving a comment below!